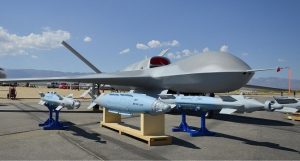 The critical Category One UAV technology from General Atomics (US-based) has been released, confirms the US. 100 units of Predator C Avenger air-craft worth $8 bn requested by the Indian Air Force.
According to sources, "The White House under President Donald Trump spearheaded the interagency process to make a very significant policy change in favor for India by granting this technology as desired by India based on senior Indian government requests."
Vivek Lall, a former Boeing official, and NASA scientist commented,  "We are extremely pleased President Trump and Prime Minister Modi have had excellent deliberations and the path forward for a game changer in US India defence relations has been charted. Given the Sea Guardian's capabilities such a US response to the Indian Navy request demonstrates a major change in US policy because this type of aircraft capability is only exported to a very select few of America's closest defence partners. This represents tangible implementation of US Congress' designation of India as a major defence partner."
India has been relentlessly working on the predator technology for some years but the Trump and Modi meeting gave this a green signal.