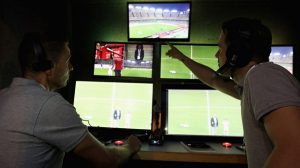 Video Assistant Referees (VARs) have been supported by Diego Maradona even being aware of his 'Hand of God' goal which happened because of the absence of technology during 1986 World cup quarter-final between Argentina and England which was in Argentina's favor with a 2-1 score.
Maradona said in an interview, "I thought about it and, sure, that goal wouldn't have stood if technology had been around. And I'll tell you something else: at the 1990 World Cup I used my hand to clear the ball off the line against the Soviet Union."
"Obviously I think about it whenever I show my support for the use of technology."
"We were lucky because the referee didn't see it. You couldn't use technology back then, but it's a different story today."
VAR technology has been tested at several tournaments including in last month's confederations cup. Two video assistant referees monitor VAR and draw the match referee's attention to the possible mistake.
The governing body says that they would like to use this technology in next World Cup. And IFAB is expected to take a decision on the use of VAR as part of the game as permanent basis.
Maradona said, "People used to say that we'd waste a lot of time, that it would cause a lot of annoyance. But that's not the case."
He asked, "Football can't fall behind. Given the rate at which technology is advancing and the fact that every sport uses it, how can we not think about using it in football?"