ULT AG will use the world's leading trade fair LASER World of Photonics in Munich, as a platform to showcase the company's outlook concerning its future role as a supplier of extraction and filtration technology for laser applications. Industry 4.0 is the primary industry topic at present – and the supplier of air-conditioning equipment stays abreast of changes offering a new device control generation.
This new control will permit remote access to extraction and filtration units on a web server via LAN or WLAN. Users can read the units' data, e.g. filter loading, the level of vacuum in the extraction unit or the date of the next scheduled maintenance operation. Moreover, the application of extraction and filtration technology for laser processing machines will benefit from new features. They will be connected via Ethernet to allow reading of condition data or to control their operation.
A specifically designed online portal will enable users to comfortably access device information or even order replacement filters for dedicated units.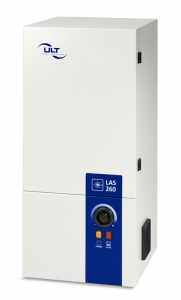 The new device control will be demonstrated at the show on the connected laser fume extraction system LAS 260 .
The extraction and filtration units from ULT AG eliminate airborne pollutants, which are released during laser treatment processes, e.g. laser cutting, laser welding or laser marking etc. ULT AG offers a comprehensive range of both turnkey and customer specific systems to remove hazardous airborne pollutants from laser smoke or laser dust.
In addition, ULT AG offers a broad portfolio of extraction and filtration solutions for additive manufacturing. In this area, the enterprise exhibits its comprehensive expertise, which has been growing based on long-term research and a close cooperation with system suppliers.
Visit us at : LASER World of Photonics: hall A3, stand 118