ST is one of the leading suppliers in industrial market with comprehensive solutions and product portfolios. ST focus on three Industrial market segments – Power & Energy, Motor Control and Automation. ST is leading technology innovation in: Power & Energy – with extensive range of cutting-edge products and solutions, such as the 15 kW Bidirectional PFC (3 Level T-type) with industrial leading SiC & Digital Control, 65 W Type-CTM & Power Delivery Charger with GaN FET SiP and Motor Control – with an extensive ecosystem of products and solutions for motor control applications including home appliance, such as solutions for air conditioning and fridges.
Francesco Muggeri, Regional Vice President of Marketing & Applications, Power Discrete and Analog Products, Asia Pacific, addresses the world media about ST's strategy for the industrial market. Through the presentation, Francesco gave a clear understanding of ST's regional strategy and the subject chosen at this point of time clearly indicates ST's leadership position, implementation, execution and future course of action.
ST's strategy is developed around four main pillars i.e. Automotive, Industrial, Personal Electronics, and Communications Equipment, Computers & Peripherals.
In the online media session, ST focused primarily on industrial strategy. The industrial strategy is executed to reinforce and extend the leadership position at several levels. ST wants to strengthen its position in industrial embedded processing, MCU and CPU products. Also wants to grow its presence and strengthen portfolio in analog and also expand industrial presence in the field of power and energy management through partnerships and business development activities inside key customers.
Since the industrial market is growing at the fastest pace currently, ST has focused its attention on the market activities in manufacturing and processing, power and energy, medical electronics, building and control. All these industrial applications will achieve an overall 6% GAGR in 2018~2021. Security and video surveillance applications on the automation side, will achieve about 19% GAGR during the same period.
Speaking to the media, Francesco Muggeri stated that STMicroelectronics has a strong position in motor control with more than 1 billion low voltage motor drivers ever sold in the market. ST has already sold more than 120 million smart meters and more than 1 billion devices in the market using intelligent power switching for factory automation. ST has strong positioning in IGBT and HV MOSFET with high level of market share plus the low voltage side. This is completed with general purpose MCUs, secure MCU and EEPROM.
ST has developed a strategy for Asia to lead this market. ST is a leading provider of semiconductor in Asia – mainland China in particular. ST is associated with leading partners who are capable of innovating and developing top technologies. ST liaise with key distributors and see them as technology partners for the mass market in the application segments including automation, motor control, power and energy. ST has created three competence centres in the last year and hired more than 25 people additionally. ST has a strong presence in Shenzhen, Shanghai, Taipei, Beijing, Seoul, India, Thailand and Singapore.
ST gets close to customers by organising road shows in several cities, training in the universities, customers and distributors in order to give strong knowledge of the products.
Power and Energy
Discussing on Power and Energy, Francesco mentioned that ST has major competence center for power and energy. ST entered the market considering the key trends as the demand for power electricity forecasted to increase by 30% from 2020 to 2030. ST focuses on new and renewable energies, saving energy and generating green energy to reduce the CO2 emission by 45% by 2030. ST intends to lead with innovative solutions for the DC/DC charging station. ST introduces the solutions – the 15 kW Bi-directional PFC, and 65 W Type-C charger for mobile phones and personal electronics.
ST provides leading-edge solutions for DC charging station and for industrial power based on proven and innovative technologies and backed up with our extensive power management experience.
15 kW Bi-directional PFC (3 Level T-type) with SiC and Digital Control: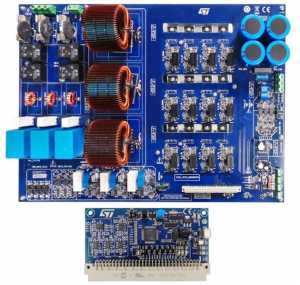 The SiC MOSFETs & STM32G4 at high switching frequency operation (70 kHz) allow the optimization of passive components in terms of size and cost. Its 99% efficiency (98.5% with IGBT at 40 kHz) will save > 330 kWh in one year (assumption of 12 hrs operation per day).
65 W Type-C & power delivery charger with Half-bridge driver with GaN FET SiP: Driver (STDRIVEG600) & 2x 650 V GaN FETs in the same package in ACF topology allow up to 350 kHz switching frequency. Its power density is 1.5 or 2 times higher than the market standard, 1% efficiency higher at 20 V / full load condition. It meets zero load condition of < 0.1 W input @ 5 Voutput. Within 30 minutes, you are able to fully charge your phone.
ST motor control ecosystem 
Motor control for home appliances solutions for air conditioning and fridges product portfolios are supported by strong technologies availability. ST has a strong positioning of product portfolios, which are able to support seven architectures for the same solution.
For example, ST addresses air conditioning from 1.5kW to 2kW. It can have four different architectures : completely discrete organize its boards in convenient manner, with ACEPACK addresses high level of power in three blocks, enables to deliver higher level of power in compact solution. It can integrate STM32 core with the drivers plus discrete solution around. This is really an optimized solution when space becomes a little constrained.
1.5 kW Dual motor drive with digital PFC, SLLIMM IPMs & STM32F: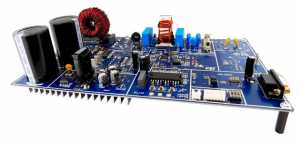 This type of product is already available and customers can buy it online. Key feature include: ST MCU & IPM product-level integration architectures, maximizing simplicity and robustness of all-HW protections. ST FOC Motor Control and PFC integrated IP in one MCU. STM32 MC SDK provides full source code, optimized for Air Conditioning.
ST fridge solution 250 W STSPIN32F0601: ST has the same attention to the traditional fridge market, in which the energy efficiency standard is elevated to class A plus. ST offers 250W motor drive solution for compressor based on STSPIN32F0601 & STGD6M65DF2 Trench gate IGBT 650V. Key Features: STSPIN32F0601 system-in-package and ST Trench Gate Field Stop high energy-efficiency IGBTs – dramatically reduce the components number and PCB space, STPIN32F0601 features an STM32F031 with Arm Cortex-M0 core, thus belongs fully to the STM32 ecosystem, included the STM32 MC SDK.
Motor control and home appliances ST products
Moving forward, ST has a broad motor control portfolio. It supports from stepper motors, DC motors to BLDC motors, with high level of efficiency. ST has system-in-package and embedded intelligence when it comes to digital control and analog control where power is able to reach 500W/cm2. Special isolation technology brings people safety. The portfolio goes from very low power to very high power, from digital controller to analog controller, from embedded switch MOSFET inside to extended MOSFET using IPM.
STSPIN32F0 series: As for drivers, the focus is on STSPIN32F0. There are two versions – low voltage and High Voltage. Low Voltage ranges from 6.7V to 45 V driving condition that means for battery power solution, you can address same power tools or smaller appliances and higher voltage up to 600V and the medium voltage up to 250V. Other feature include: 0.6 A FOC/6-step gate drivers, 12 V / 3.3 V Voltage reg embedded, and 1 and 3 shunt topologies. For High voltage ranges from 9 to 250 V. The feature include: 0.3 A/1A FOC/6-step gate drivers, Smart ShutDown protection, outstanding below-gnd robustness, 1 and 3 shunt topologie. High voltage also ranges from 9 V to 600 V. The feature include: 0.3 A / 1A FOC/6-step gate drivers, Smart Shut-Down protection, Outstanding below-gnd robustness and 1 and 3 shunt topologies.
ST has the technology for home appliances forward by introducing high level of sensing and high level of intelligence to motion sensors, temperature sensors, pressure sensors, humidity sensors and voice control/ microphones.
ST is a leading player in the market of motor control, especially in home appliances but are not limited to it. So motor control, power and energy and automation are three main segments ST is dealing in.
In addition to the presentation Francesco Muggeri replied to the media queries as below: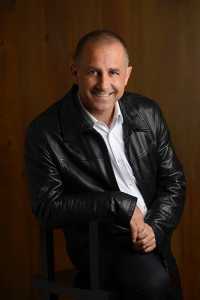 Francesco Muggeri, Regional Vice President of Marketing & Applications, Power Discrete and Analog Products, Asia Pacific
ELE Times: Does ST address the changing standards of Power and Energy and driving demand for semiconductor content in India? What market trends do you foresee in the next 2 to 3 years in the wake of changing standards of Power and Energy?
Francesco Muggeri: I think India is the next big country with huge demand for electronics. But it will come from a very different aspect because the demands, culture, population, habits and user experience of India are quite different from those of China, Korea, Taiwan, Southeast Asia Europe and America. In India, the problem you need to solve is not car electrification because car electrification means converting existing cars with gasoline engines to electric vehicles. In India, there are a lot of cars. But the problem that India needs to solve is electric mobility. Very often we see in India there is demand for two wheels high power electric vehicles and high power e-bikes, which are small vehicles driven by electric power. Tata manufacture, in the market today, small cars in India to satisfy this special market.
Now if you look at it from the charging point of view, or from the power and energy point of view, you will need very high power to charge small cars and e-bikes. If you look at the market today in which we are in contact with the customer, I see one of the most advanced market for electric bikes in India. How to charge these batteries with wireless power, not having any plug of cable? It require 120kW battery power on average to charge a car. But in India, we perhaps need only around 30~40kW. So the power solution is different. In addition, India is very big in size. It has a very extensive grid system and its population is very sparse. You cannot reach most of the villages easily. So as you see, we need to address it in a different way.
We have a big Indian team to address this. We have a lot of components such as SiC and GaN which we talked about today. We are trying to address solar market in India. Another aspect of differentiation is how we address the Indian market. We need to use the UPS in India. If you remember a few years back, one of the main problems you might have on UPS is the stability of the grid power. This has created a lot of failures, and therefore the computers were shutting down. So everyone here is adopting UPS to have continuous supply of power so as to avoid the shutdown of computers. Thanks to the continuous improvement in the grid power and UPS now. However, it is necessary to use UPS because you may run for 6 to 8 hours a day. So the kind of UPS you are seeing now are different, the kind of independent providers of energy are different.
In addition, the recent regulation in India has created an important boost for the local economy. The new norms require that, locally you have certain level of production of the integrated system, so many locally invested companies and all the other international companies in India are working with us to customize and develop solutions including home appliances that we are working with local companies to create locally needed appliances and other kinds of consumer products. So power management in India is something different. It is leading the world in terms of innovations, user experiences and particular needs.
ELE Times: How important is the motor control market beyond Air Conditions and fridge? What are the solutions for that market? What give you a leading edge over your competition?  
Francesco Muggeri: In terms of home appliances, we also have washing machine, air dryer and dish washer solutions. Besides those home appliances, we also have appliances for restaurants, factories, food producers and food processing factories. Take air conditioning for example, when we are talking about its relevant industries, we are talking about conditions like heat, ventilation, and air conditioning, also the floor, the air, humidity, moisture in a certain way.
We can also move to motor control for e-bikes, professional drones, vacuum cleaners, professional power tools, and factory automation such as robots. When we go to robots, for example, we need high level of computation, because we need extreme precision which is made through high level of numeric computation. So automatic computation becomes fundamental. You also get the precision required to operate on medical equipment. So you have different requirements. After you go to the production line, you will also have high level of power requirement. When you move to the train and railways, you will have higher level of requirements on module. This makes it very fundamental and complex. The strength of ST is that it has very different technologies and can do systematic package. We have different variety of packages, and we are ready to collaborate with customers, then we are able to satisfy very fragmented markets. What we need is more flexibility and to speed up customer products to the market in time.