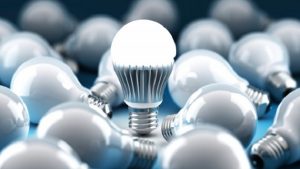 Philips
Philips is the world leader in LED and sports lighting. It offers a huge collection of LED products in various categories like GreenLED, Professional Luminaires, Lighting Electronics, Lifestyle modular switches with protective technology, Home Decorative Lighting collection, etc.
Osram
Osram, the German Lighting Expert, is considered to be one of the world's leading players in the global lighting market. The portfolio ranges from high-tech applications based on semiconductor technology, such as infrared or laser lighting, to smart and connected lighting solutions in buildings and cities.
Havells
Havells India Limited is a leading Fast Moving Electrical Goods (FMEG) Company and a major power distribution equipment manufacturer with a strong global presence. Havells enjoys enviable market dominance across a wide spectrum of products, including Industrial & Domestic Circuit Protection Devices, Cables & Wires, Motors, Fans, Modular Switches, Home Appliances, Air Conditioners, Electric Water Heaters, Power Capacitors, CFL Lamps, Luminaires for Domestic, Commercial and Industrial Applications.
Wipro
Right from high efficiency LED luminaires and lighting management systems to lighting for green buildings, Wipro Lighting have LED product offerings across a range of application areas including modern workspaces, industries, retail, healthcare, pharmaceutical firms, roads & highways, landscapes and many more.
Bajaj Electricals
Electricals Limited (BEL), a globally renowned and trusted company, with a turnaround of ₹4298 crores (FY 16-17), is a part of "Bajaj Group". Bajaj Electricals business is spread across – Consumer Products (Appliances, Fans, Lighting), Exports, Luminaires and EPC (Illumination, Transmission Towers and Power Distribution). They also have a presence in the hi-end range of appliances with brands like Platini and Morphy Richards in India.
SYSKA LED
SYSKA LED lights are a smart innovation in the future of lighting. They provide simple and lasting lighting solutions to the user. Advanced technology, energy efficiency and durability put SYSKA LED lights years ahead, giving it a clear edge in today's market. Every LED Lights made by SYSKA LED is crafted to meet global standards. SYSKA LED lights not only have the right technology, they also perform with ease.
Everyday Lights
Eveready LED Bulbs have a luminous efficacy of 100 lm/W. These lamps come with an inbuilt Constant Current driver which ensure a constant light output irrespective of fluctuations in the mains voltage. This also ensures the lamps operate within the rated current. This ensures long life for the lamps.
Crompton Greaves
Consumer Electricals Ltd. manufactures and markets a wide spectrum of consumer products ranging from fans, light sources and luminaires, pumps and household appliances, such as geysers, mixer grinders, toasters and irons. Crompton has been the market leader in fans, domestic pumps and street lighting for over 20 years.
Kwality Photonics
Kwality Group of Industries, which Includes Kwality Electronics Industries and Kwality Photonics Pvt. Ltd. is India's largest producer of Light Emitting Diodes (LEDs), LED Displays & Opto Electronic Products quality leader. Having obtained ISO 9001:2000 and consistently achieving near 100% yields, and range leader the company offers over 600 types of LEDs, LED Displays & Opto Electronic Product.