IEEMA Reaction on Budget 2017
"Budget focused on rural development and infrastructure upgradation"
Indian Electrical and Electronics Manufacturers' Association (IEEMA) welcomes the Union Budget 2017 – 18 presented by the Hon'ble Finance Minister, Shri Arun Jaitely on February 01, 2017.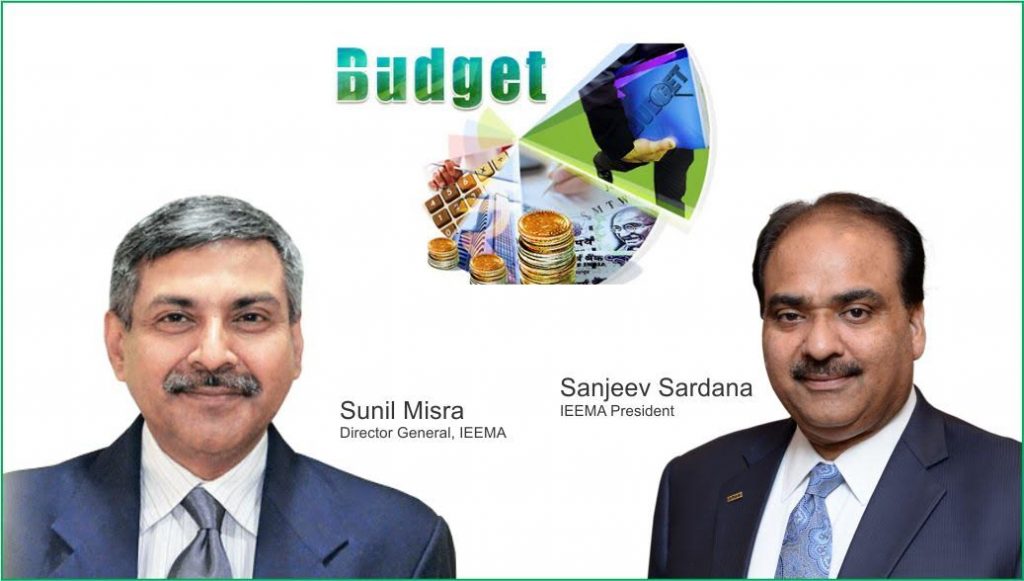 IEEMA President, Mr. Sanjeev Sardana said,
Increased allocation to Deen Dayal Upadhaya Gram Jyoti Yojna and Integrated PowerDevelopment Scheme will provide a much-needed impetus to the sector. 
Tax relief of 5% for companies below Rs. 50 Crore turnover is welcome. This will encourage the morale of the industry as 80% of electrical equipment industry is under MSME.
The budget is focused on the long-term growth of the economy, which will have a corresponding impact on the Indian Electrical equipment industry.
Mr. Sunil Misra, Director General, IEEMA said,
Given that this is an election year, the budget doesn't seems to be populist, on the

Sunil Misra, Director General, IEEMA

contrary bold decisions on electoral funding and tax compliance are a welcome step.

However, Individual salary relief which was expected has only come as a small relief."
The increase in allocation to the rural sector such as MNERGA, providing 1 crore housing for poor, thrust in Pradhan Mantri Gram Sadak Yojna and government's commitment to electrify all villages by May 2018, will result in an increase in domestic demand.
The increased expenditure in the rural and infrastructure sector will result in higher disposable income within the economy leading to long-term stable growth of the country.
Total outlay of 3.96 lakh crore in infrastructure sector is a positive news. Further, the government's target of putting up 3500kms of railway lines, modernization of railway stations through private partnership and new metro rail policy will benefit the domestic electrical industry.
The Finance Minister also announced, 20 GW of solar capacity to be installed, giving impetus to the renewable sector.
Next Page: Reaction on Union Budget, by Pegasystems India