Driving electronic warfare innovation
High-density HPEC platforms that, for example, integrate the server-class Intel Xeon processor D-1540, provide the basis for continued EW innovation. These types of sophisticated processing systems enable military system developers to take advantage of the extensive capital and operational efficiencies provided by isolated workloads configured to dynamically share common resources specifically enabling multipurpose or multifunction EW systems. For instance, developers can use such systems to powerfully consolidate workloads into a single system to run both jamming and surveillance EW applications.
Jammers often operate by taking a radar signal in and transmitting a corresponding different signal to effectively mask a vehicle's true position, velocity, or even composition. To do this, jammers require extremely fast digital signal processing (DSP) capabilities such as those offered by the AVX2 floating-point vector math units in the Intel Xeon processor D. By bringing exceptional eight-core performance and advanced features into dense, lower-power industry-standard systems-on-chip (SoCs), EW developers can scale their designs for quick data capture and processing. Additional features supporting fast distributed data transfer are reliable PCI Express (PCIe) Gen3 and 10 Gigabit Ethernet (GbE) that deliver extremely low latency at as fast as 10 GHz per lane.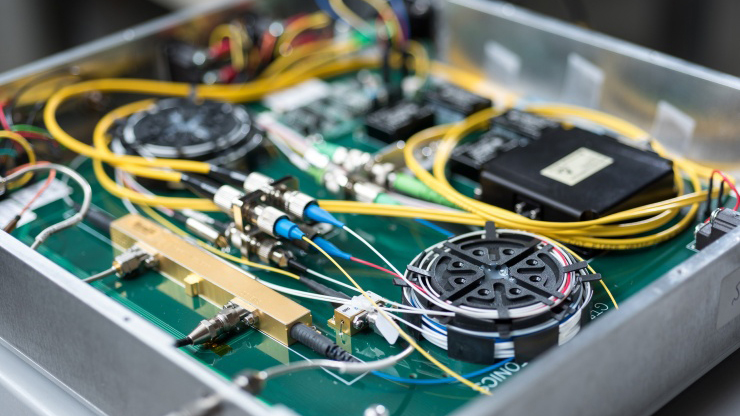 Jamming applications can also benefit from using the interprocessor switch fabric these new dense HPEC platforms offer between payload slots. Based on PCIe and 10 GbE, they give designers a plug-and-play solution capable of moving data at ultra-high speeds by implementing extremely fast serial link point-to-point connections between boards. Using advanced standards-based communications fabrics enables developers to quickly implement or port applications using standard TCP/IP or other communications protocol stacks, resulting in high performance and efficient system convergence. In addition, many devices and subsystems offer native PCIe, which allows immediate use of an existing infrastructure, thereby lowering latency, cost, and power.
Different EW systems can have different demands on a system. Electronic surveillance, for its part, requires much more detailed and compute-intensive processing of sensor data. The Xeon processor D not only delivers essential DSP performance, but it offers extremely efficient general-purpose processing as well as a rich assortment of peripheral I/O such as SATA III. In addition, the Xeon processor D offers virtualization technology (Intel VT), which enables the system developer to direct these divergent tasks to efficiently share the processing hardware. This functionality makes it an ideal platform for electronic surveillance applications.