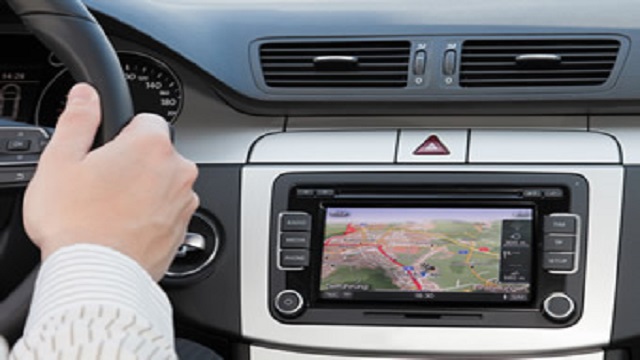 Murata Manufacturing Co., Ltd. developed the world's most distinctive surface mount piezoelectric sounder for the automotive applications. This started mass production in October 2016.
The automotive market continues to develop and implement ADAS (advanced driver assistance systems) for use in the operation of next generation automobiles. An increase in volume for sound emitting parts within the man-machine interface has been needed for warnings and notifications during driving. Additionally, the previous generation of pin type sounders had problems with mounting defects and changes in sound quality. This prompted demand for reflow-capable parts with the high degree of reliability required in automotive applications.
To meet this challenge, Murata applied its unique materials technology and high-level manufacturing processes to produce a surface mount piezoelectric sounder specifically for the automotive market, resulting in a new sounder that yields four times the sound of previous Murata products an increase of 10~12dB. The current aim is to increase adoption of the sounder in speedometers, power steering, power tailgates, parking assist systems, and other automobile technologies.
Features:-
• Provides world's loudest volume for a surface mount piezoelectric sounder.
Type: 100 dB (2kHz, +12Vo-p waveform, 10cm)

• Product Size
18.0×18.0×8.0(mm)
• Wide Operational Temperature Range
Allows automobile cabin environmental temperatures from -40 ~ +105°C.
• Allows reflow mounting as well as taping reel packaging.
Allows reflow mounting for effective countermeasure against irregular mounting and abnormal sound.
• Lightweight (1g or less), no electromagnetic noise
Uses a simple structure having no magnet or coil, which reduces the impact of electromagnetic noise on surrounding circuits, and contributes to lighter devices.
• Low Consumption Power
Less than a tenth of the power consumption of comparable electromagnetic components.
Appearance & Shape:- (PKMCS1818E20A0-R1)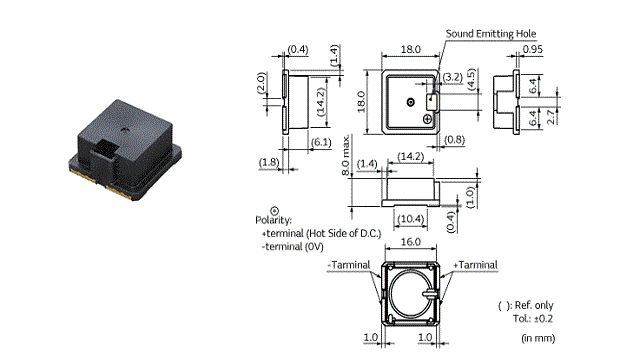 Specifications:-
| | |
| --- | --- |
| Size | 18.0×18.0×8.0 mm |
| Frequency | 2.0kHz |
| Sound Pressure Level | 100dB (typ.) |
| Sound Pressure Level | 90dB (min.) |
| Measure Condition of Sound Pressure Level | [12Vo-p,2.0kHz,square wave,10cm] |
| Maximum input voltage | 18.0Vo-p [with polarity] |
| Operating Temperature Range | -40℃ to 105℃ |
| Storage Temperature Range | -40℃ to 105℃ |
| Shape | SMD |
| Drive Type | External Drive |
Applications:-
| | |
| --- | --- |
| Automotive Usage | Infotainment |
| Other Usage | Automotive/Industrial |
Packaging Information:-
| Packaging | Specifications | Minimum Order Quantity |
| --- | --- | --- |
| -R1 | 330mm Embossed Tape | 250 |
For more information, visit Murata's website at www.murata.com