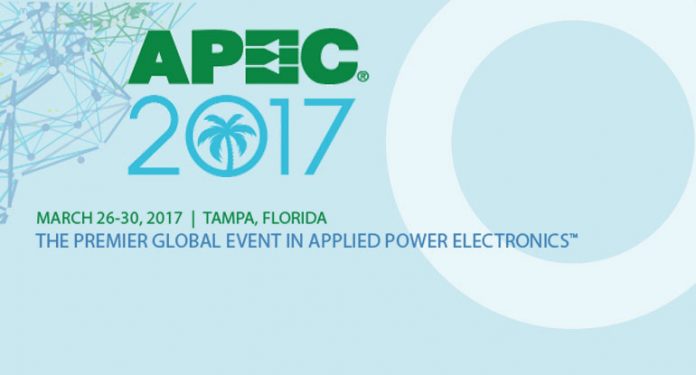 Ametherm on March 15, 2017, announced its product lineup for the Applied Power Electronics Conference and Exposition (APEC) 2017, taking place March 26-30 in Tampa, Florida. In booth 1426, the company will be showcasing a wide range of its leading NTC and PTC inrush current limiting thermistors for reliable circuit protection in high-power, high-voltage applications.
Highlighted Ametherm inrush current limiters at APEC 2017 will include the company's MS35 series of NTC thermistors for applications such as solar inverters, battery chargers, and DC/DC converters. Designed to withstand high input energy from 500 J to 900 J and steady-state currents from 10 A to 50 A, the devices offer resistance from 0.5 Ω to 20 Ω and thermal time constants from 65 s to 240 s. Featuring diameters of 37 mm and 38 mm and thickness down to 6.50 mm, the thermistors handle the same amount of energy as power resistors in a smaller package, saving valuable circuit board space.
PTC circuit protection thermistors on display will include the ceramic CL20 series for pre-charge circuits, degaussing circuits, and heater applications. The devices deliver voltage ratings up to 750 V and maximum energy ratings to 700 J while offering four resistance at 25 °C values from 7.0 Ω to 100 Ω to accommodate a variety of pre-charge times. These resistance values remain unchanged over the typical operating temperature range of -40 °C to +110 °C. Providing high reliability and stability in high-voltage applications, CL20 series thermistors can withstand hundreds of hits of maximum inrush current without degrading.
Ametherm will also highlight its MCL20 500100-A PTC circuit protection thermistor for applications such as welding equipment and plasma cutters with extremely high voltages from 480 V to 930 V. The device features a 680 V voltage rating, handles a maximum inrush current of 20 A at maximum peak voltage, and offers resistance at 25 °C of 50 Ω. With a 19-mm diameter, 9-mm maximum profile, and 7.8-mm lead spacing, the MCL20 500100-A provides designers with a more compact and cost-effective alternative to combining a power resistor, relay, and timer on one circuit to achieve the same functionality.
Made in the U.S.A., Ametherm's NTC and PTC inrush current limiters are recognized by Underwriters Laboratories (UL) and the Canadian Standards Association (CSA International) for ensured safety, and many are RoHS-2-certified (with Exemption 7a and 7(c)-1).
As the premier event in applied power electronics, APEC focuses on the practical and applied aspects of the power electronics business. More information on the conference and exposition is available at http://www.apec-conf.org/.
For more information on Ametherm's products or to request a sample, visit www.ametherm.com.