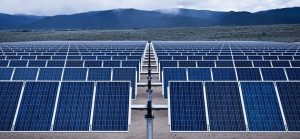 The government has amended solar bidding norms, allowing developers to pass on the burden of any increase in duties on solar equipment to discoms, ending the industry's apprehensions about likely impact of possible anti-dumping and safeguard duties on imported equipment.
ET reported that the move will allow developers to bid as per current policies of the government, a senior government official said. It would, however, mean that any duty hike will ultimately be borne by the end consumer.
"It is hereby clarified that the term 'change in the rates of any taxes' as mentioned in clause 5.7.2 of 'Guidelines for tariff based competitive bidding process for procurement of power from grid connected solar PV power projects' — notified on August 3, 2017 — includes change in rates of taxes, duties and cess," the ministry of new and renewable energy (MNRE) said in a notification issued on Monday.
Anand Kumar, secretary in MNRE, said there has been some uncertainty in the market due to fears of safeguards and anti-dumping duties. "The bidders did not know how to bid realistically and accurately in the market, so there is a lot of speculation and we could get unrealistic rates as a result," he told ET.
In the current scenario, where the government is still examining the veracity of data submitted by the domestic solar equipment industry for safeguards investigation, the move will prevent developers from taking undue advantage of this uncertainty, Kumar said. "Suppose I don't make it a pass through, and bidders quote high rates. And then the duty never comes, then the bidder is taking undue advantage," he explained. "So even if the price is increasing to the discoms, it is increased due to government policy," Kumar said.
The Directorate General of Safeguards in January this year had proposed a whopping 70% safeguards duty on imports of solar cells and modules from China and Malaysia, after domestic manufacturers' body Indian Solar Manufacturers Association claimed to be facing serious injury on account of imports from these nations.
ET reported that Kumar said, "Unless we are sure that there is merit in the case and the data is right, we cannot let in happen. MNRE believes it should not disrupt solar mission." Power and MNRE minister RK Singh had last month said the government was mulling pass through of duties on solar projects to de-risk them.