Industrial flow measurement is gaining prominence with each passing day. The factors like environmental protection, worker safety, process optimization, and product quality among other make a strong case for flow sensors. Flow meters are increasingly witnessing steady rise in demand for the monitoring and measurement of the flow of steam, water, gas, chemicals; and mineral oil among other such products.Flow meters offer the much essential precision in terms of ideal and economical quantity during flow measurement.This has numerous advantages when it comes to process control.
Versatile Flow Sensors: Importance of Choosing the Right Type
Quantification of bulk fluid movement is possible in more ways than one. Often measured by calculating the velocity of product over a particular area, the tracer method is also used for larger flows. Recent advancements in flow sensing technology have resulted in production of more precise, accurate, and advanced meters that can gauge variety of gas and liquid products.
The products available in the market today are more durable and economical, which makes tem viable for both end-users andmanufacturers. Advanced applications of sensor technology make it versatile when it comes to applications different industries. For instance, flow sensors can be used in the barometric section. Their ability to measure flow of air, makes these sensors suitable for weather forecasting and climate prediction.
Another major application of flow meters is found in the advancing field of heating, ventilating, and air conditioning or HAVC. Flow sensors find applications in compressors of air conditioning systems as they assist in adjusting the air pressure. Healthcare segment makes use of intricate sensing devices to measure the flow of blood and other body fluids for diagnostic purposes. Businesses can measure flow of the liquids, gas, and steam with the help of a variety of devices like:
Coriolis
Differential head
Electromagnetic
Magnetic
Positive displacement
Thermal
Turbine
Ultrasonic
Vortex
Industries wantingto control material balance and residence time need to choose the most suitable flow sensor devices for accurate measurement.Experts suggest selecting flow sensors on the basis of applications instead of technology. This ensures correct devices are selected for the desired results. Minute changes in the velocity of flow impacts the time required for the signal to travel between sensors. This signal is then used in advanced technologies like process control software.
Top 3 Trends in Flow Sensors
Modern flow sensor devices and measurement instruments are witnessing rapid advancements in terms of technology and innovations. According to the researchers, the top players operating in the global flow sensor market are spending heavily on research and development initiatives. These activities are expected to help them manufacture products suitable for varying requirements of different industrial plants and end-user applications. Major trends observed in the flow meter technology can be listed as follows:
Digital signals for flow meters
Enhanced management of installation and application effects
Multiple measurement formats
Online diagnosis and troubleshooting
Remote calibration and configuration
Smart sensors with online alerts
Wireless communication
The multifaceted enterprise of flow meteris displaying promising growthprospects across different end-use industries and areas of work including chemicals, food and beverage, oil and gas, power generation, pulp and paper, and water and wastewater management among others.The advanced devices are showing faster growth in terms of demand and adoption compared to traditional devices. As per the experts, this shows the trend among business owners to discover improved flow sensor solutions to perform complicated tasks while saving expenses. Here are some other top trends observed in the market:
#1 Self-cleaning Sensors
Technological advancements via increased research and development has allowed the industry to come up with the most appropriate solutions to the complex operational problems. Cleanliness is one of the problems that flow sensor operations need to deal with on a regular basis.Automated cleaning is, as per the experts, one of the simpler yet revolutionary trends observed in the market for flow sensors. This trend is particularly advantageous for the water and wastewater management sector.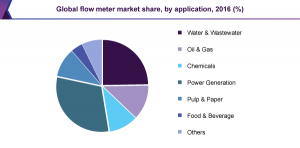 Monitoring wastewater and sewage can cause hazardous effectsonequipment as well as the operators. Innovations in flowmeter technology have provided better and robust products that are capable of preventing blockages and build-ups in the system.Self-cleaning devices available in the market can reduce the need for constant monitoring and cleaning of the devices. Such instruments can save cost by reducing operational and maintenance costs. The enhanceddurability of the latest products assists the business in reducing their budgets while enhancing the lifespan of the machinery.
#2 Software Developments
Introduction of computer processing has positively influenced the way the functionalities of the flow sensors market work. Availability of low cost memory chips that can process data at high-speed and big data can prove to be big boon for the market as complex as this.Increasing usage of software programs is expected to provide precise measurements and the ability to calculate a greater range of gases and liquids.
As per the experts, this is possible due to customizable parameters allowing the users to modify the equipment based on their measurement requirements. Improvements in software technology and interfaces provided to operate the flow meters can revolutionize the way these equipment are utilized across the board. Owing to the simplified user interface and instructions, and improved design, these devices make it easy for the non-technical users to get familiar with the process withadequate safety measures.
#3 Multi-support Equipment
The recent upgrades in flow meters have made inclusion of numerous advanced features. These features have predominantly enhanced the calibration requirements and verification tools. These advancements have positively influenced the products and made the lightweight and easy to operate. One of the most vital improvements in these models is their increased customizability.
The instruments support wireless communication and additional options for analysis and reporting. Experts predict that these advances can improve the confidence levels of the companies in terms of accuracy and cost-effectiveness. The upward trend of all-in-one flow sensors is anticipated to remain high, creating investment opportunities in the years to come.
Flow Sensors Market Growing at Steady Pace
Based on a market research report published by Grand View Research, Inc.; the market for flow sensors is expected to witness healthy growth in terms of CAGR in near future. The report suggests that the market will reach a valuation of around USD 7.48 billion by the year 2020. Expansion of application areas and innovative product developments are some of the factors driving this growth. Major end-user industries are keen on replacing traditional sensor instruments with the advanced ones like Coriolis, thermal, and ultrasonic flow sensors. Advancements in sensor technology are increasingly making them reliable, versatile, and functional. Availability of products with multiple applications and real-time remote calibration can further fuel the growth of the market, suggest the experts.
There is a notable rise in the demand for smart flow sensors. Internet of everything, a trend big on the use of smart technology to enhance convenience and to make maximum use of product features is set to revolutionize the flow sensors market. Introduction of wireless smart sensors have automated measuring features, making them ideal for various smart home applications. These sensors have two-way communication capabilities and self-diagnosis competence. These features are anticipated to impel the growth of these products in near future. As a result, most OEMs are investing in the smart and wireless technologies to innovate their product portfolio, another markettrend observed by the researchers.
End-use industries like automotive, process industries, environmental, and medical sector among others are expected to have steady growth in the market. Among different applications, the automotive industry is expected to witness the highest growth in near future.
Global Flow Sensors Market by application, 2012 – 2020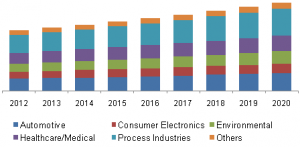 Rise in automotive production and utilization of flow sensors in exhaust gas recirculation, engine control, injection control, and vehicle HVAC can boost this growth in the years to come.Another industry set to register steady rise in demand for flowmeters is oil and gas. Sectors like pulp and paper, chemical plants, and process industries are also projected to enhance the utilization of these sensor instruments.
Innovative applications like anesthesia machines, blood flow monitoring, ventilation measurement, and gas flow monitoring in healthcare can create business opportunities for flow sensor manufacturers. High demand from developing regions and countries like China, Japan, and India owing to rapid industrial growth is a vital sign for the flow sensors market. North America is expected to witness steady rise in growth in near future due to increased production of machinery and automotive products. The changing regulatory mandates are also anticipated to propel the regional market in the forthcoming years.
Although slow in terms of growth, companies from the developed markets like Europe are anticipated to come across interesting business opportunities in near future thanks to the technological developments to improve the accuracy, efficiency, and eco-friendliness of these products in the long run.Siemens AG, ABB, Analog Devices, Delphi Automotive, and Honeywell International, are some of the market leaders who are maintaining stronghold over competition through product innovations.
The primary focus of most market players seems to be on obtaining quality raw materials. It is vital for the companies operating in the market to acquire these materials in sufficient quantity without compromising on quality or time of delivery.As a result, the players are cautious while choosing the suppliers.Supply chain management is a vital part of gaining prominence over the competition in this market, suggest researchers. Changing suppliers or any kind of disruptions in supply chain can create negative impact on the overall operations and finances of the companies dealing with flow sensors.
Future of Flow Sensor Manufacturing
Volatile prices of oil and the serious drop in costs for a significant span in recent past (from 2014 to 2016) has had repercussions on the flow sensors market in terms of manufacturing and distribution. Delays and cancellations in the upstream sector affects the production, budgets, and workforce operating in the manufacturing of products such as turbine, ultrasound, and Coriolis sensors. Most of these products are used in upstream applications for monitoring gas, metering, and allocation. Drop in prices of oils directly reflects on stalled exploration activities, particularly in subsea areas. This has created challenges for the flow sensors market in the recent past.
According to the experts, the conditions are expected to change for the better in the next few years. Relative stability in the prices of oil since 2017 and the anticipated trend for a rise is projected to bode well for the manufacturers in this market. High demand and potentially declining supply in the oil and gas industry is considered as an opportunity for the players operating in this market to capitalize on in the years to come. Rapid rise in industrialization and population explosion is also expected to develop investment opportunities for the manufacturers. This holds true, particularly for the emerging regions like Asia Pacific, Latin America, and Middle East and Africa.
In conclusion, some of the major players operating in the flow sensors market need to rely on innovation, technological advancements, and product differentiation in near future. Experts suggest that focus on supply chain and building better distribution channels can create business opportunities for the market players. Establishment of new plants, adoption of smart technology, and emphasis on renewable energy can help the companies build a better future for themselves.