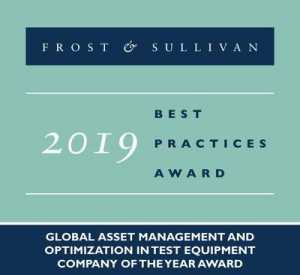 Based on its recent analysis of the global market for test equipment asset management and optimization, Frost & Sullivan recognizes Electro Rent with the 2019 Global Company of the Year Award. Electro Rent has become a value-added service provider to organizations with large portfolios of test equipment in industries such as aerospace and defence, semiconductors, electronics, and field service. It is committed to improving the operating model in test equipment and transforming it with a unique combination of real-time asset management, including dashboards and analytics.
"Electro Rent is OEM-agnostic, which provides a high level of flexibility and the ability to support any customer operational environment," said Mariano Kimbara, Senior Industry Analyst. Its one-stop life cycle solution offers clients full visibility into their assets and tracks them from procurement to disposal."
Electro Rent's advanced tools provide improved asset deployment, optimal utilization of test equipment, and lower CAPEX and operating costs. This solution can be hosted in the cloud or on a local server and can be directly integrated with the client's existing accounting or asset management software for greater inventory accuracy. It also offers an enterprise solution option with GPS and Bluetooth real-time tracking capabilities to support customer assets in the field.
Electro Rent has differentiated itself as a unified solution provider. Its pioneering efforts and integrated service model, including its growing capabilities in rental, distribution, new and used sales, test equipment disposal, calibration and repair, and asset optimization, provide it with greater cross-selling and market penetration potential than its competitors.
"Electro Rent presents best-in-class cost of ownership of test and measurement assets in key vertical markets, and partners with clients to determine optimal implementation strategies," noted Mariano Kimbara. "This commitment to customer value and continuous portfolio expansion has ideally positioned the company for long-term growth."
Each year, Frost & Sullivan presents a Company of the Year award to the organization that demonstrates excellence in terms of growth strategy and implementation in its field. The award recognizes a high degree of innovation with products and technologies, and the resulting leadership in terms of customer value and market penetration.
Frost & Sullivan Best Practices awards recognize companies in a variety of regional and global markets for demonstrating outstanding achievement and superior performance in areas such as leadership, technological innovation, customer service, and strategic product development. Industry analysts compare market participants and measure performance through in-depth interviews, analysis, and extensive secondary research to identify best practices in the industry.




For more information,visit www.electrorent.com