Infineon is the world market leader in semiconductor solutions for cars; according to the Strategy Analytics market report of March 2022. Our range of products and solutions helps to navigate the transition from internal combustion engines to hybrid or electric drives, as well as enabling an ever-increasing degree of automated driving, electric-electronic (E/E) vehicle architecture and greater connectivity, digitization and a higher level of data security in vehicles. We offer innovative solutions in the areas of safety, the digital cockpit, infotainment, comfort and lighting technology. In addition to sensors, microcontrollers, a reliable power supply, high-performance memory ICs for specific applications and power semiconductors based on silicon and silicon carbide, our product portfolio also comprises components for human-machine interaction and vehicle connectivity.
Our ELE Times Sub Editor Mayank Vashisht got this great opportunity to have Infineon onboard for our special story covering the multifarious technologies and solutions of the entire EV/HEV ecosystem. Jeetendra Ashok, Sr Product Manager – NOR Memories, Infineon Technologies India and Narendra Walvekar, Business Development Manager for Automotive Sales, Infineon Technologies India take us through a well-detailed journey in the world of EV/HEV. What are the latest solutions for technologies like ADAS and powertrain systems? The challenges of Battery Management Solution, innovations for in-vehicle networking and vehicle safety, and so much more.
We started our conversation with the advanced driver assistance systems (ADAS) now most new vehicles have added multiple processors and high-current sensors and actuators, in addition to other devices. Jeet told us about the array of solutions offered by Infineon for emerging Autonomous Driving Applications. "Infineon offers products and solutions to make cars clean, safe and smart. We cover all application areas in the vehicle: powertrain and energy management, connectivity and infotainment, body and comfort electronics, safety and security. Infineon wants to accelerate automated driving advancement: We want the driver to become a passenger", said Jeet. "Our product portfolio covers sensor chips, such as radar, microcontrollers, memory, power and power distribution chips.  Radar sensors are an integral part of advanced driver assistance systems (ADAS) in modern cars. They improve safety and comfort and are especially vital for autonomous vehicles. Radar sensors for cars are typically deployed for blind spot detection (BSD), lane change assistance (LCA), collision mitigation (CM), parking aid (PA), and rear cross-traffic alert (RCTA) features. Infineon offers a wide variety of automotive radar sensors including short-, mid-, and long-range radar sensors. Our market-leading RASIC product portfolio of packaged and unpackaged radar chips.
We also offer the scalable microcontroller AURIX family for ADAS, suitable for radar (24GHz, 77GHz, 79GHz), camera, 2D/3D (time of flight, ToF) and sensor fusion applications. Another ADAS game-changer: our family of ToF 3D image sensors for automotive, REAL3. It delivers directly measured data with 3D depth. Ideal for in-car applications, like driver monitoring, or camera-based data collection on a car's interior and exterior. The 3D depth data also supports best anti-spoofing capabilities for secure face authentication in order to enable in-car payment or access to private data and cloud services", he further added.
While discussing the Heterogeneous battery chemistry has advantages and disadvantages as well as unique charging requirements and managing their diverse requirements that can become a very complex design challenge, Narendra said
"Charging of Lithium Ion battery is challenging since to charge different chemistries of Lithium Ion batteries there are certain parameter changes like voltage of the cell, temperature of the cell, etc…"
Narendra then further listed some of the crucial features needed to supervise the cells. Infineon offers BMS AFE TLE9012DQU with features like
Voltage measurement with dedicated 16-bit delta-sigma ADC for each cell with selectable measurement mode and also Secondary ADC for a synced cell voltage plausibility as an advanced End-to-End safety mechanism.
Up to 5 external NTC's can be interfaced, which we believe could be much sufficient to monitor the battery temperature.
Passive balancing current support up to 200mA with internal FET's, so that by tuning the external resistor the balancing current for different cells can be changed.
Internal round robin cycle routine triggers the majority of diagnostics mechanisms such as Automatic balancing over, undercurrent detection scheme, open load & wire detection scheme, NTC measurement unit monitoring scheme.
The powertrain is at the heart of vehicle design; the engine – whether it is a conventional, hybrid or electric design – provides the motive power, which is then managed and controlled through the transmission and final drive components. The overall powertrain system, therefore, defines the dynamic performance and character of the vehicle. Jeet took the conversation further highlighting the meritorious powertrain system solutions offered by Infineon.
"At the core of all these electric vehicle technologies is the electrified powertrain," said Jeet.
The electrified power train will be the new normal – and "Zero emissions will become a reality." The key success factors for car manufacturers are total cost, time-to-market, kilometre-per-kilowatt hour, for example.
Infineon addresses all EV segments, including battery electric and hybrid electric vehicles – along with vehicles based on emerging hydrogen technology. With our broad product portfolio, customers can develop and scale their xEV platforms quickly," he further added.
Jeet also reflected upon, 17 out of the 25 top-selling battery electric vehicles and Plug-In Hybrids in 2021 use Infineon in the electric powertrain… In newly produced cars in CY 2021, about every second inverter for plug-in hybrids or battery electric cars is equipped with Infineon power semiconductors.
"We support our customers to make cars green. Infineon supports developers to meet current and future environmental legislation and customer requirements.  Our power semiconductor solutions and smart control ICs enable multi-target optimization for system cost reduction, increased power density, higher application efficiency, and modular systems— supporting your preferred topology.
When OEMs want to expand IGBT-based car models or introduce electrified car models with silicon carbide (SiC) technologies, Infineon offers the HybridPack Drive, an easy, seamless and cost-effective upgrade path across the entire power range with our scalable product and packaging technologies.
The HybridPACK Drive was first introduced in 2017, using Infineon's silicon EDT2 technology, specifically optimized to deliver the best efficiency on a real-world driving cycle. It offers a scalable power range of 100 kW to 180 kW within the 750 V and 1200 V classes. This product is Infineon's market-leading power module with a track record of more than one million pieces shipped for more than 20 electric vehicle platforms. The new CoolSiC version is based on Infineon's silicon carbide trench MOSFET structure. Compared to planar structures, the trench structure enables a higher cell density, resulting in the best-in-class figure of merit. Therefore, trench MOSFETs can be operated at lower gate-oxide field strengths, resulting in increased reliability.
The power module offers an easy upscale path from silicon to silicon carbide with the same footprint. This allows the inverter design to achieve higher power of up to 250 kW in the 1200 V class, greater driving range, smaller battery size and optimized system size and cost. In order to offer an optimal cost-performance ratio for different power levels, this product is available in two versions with different chip counts, resulting in either a 400 A or 200 A DC rating version in the 1200 V class," said Jeet.
Range of Solutions for In-vehicle Networking by Infineon
In-Vehicle Networking is a key function in today's cars. At the heart of all this automotive connectivity lies an embedded hardware and software system, known as the telematics control unit. For example, telematics connects cars to the cloud, help keep the driver and passengers safe, optimizes traffic flow and enables an automatic emergency call in the event of an accident.
Infineon offers a broad portfolio of cost-effective semiconductor solutions for every telematics controller design challenge. Benefit from our proven security solutions and comprehensive system expertise to support use cases such as:
Vehicle-to-cloud (V2X) communication
Vehicle-to-vehicle (V2V) / vehicle-to-infrastructure (V2I) communication
Vehicle fleet management and maintenance
Roadside assistance
Emergency call (eCall)
Consumer device integration
Secured onboard communication
Jeet and Narendra enumerated the latest developments for High-power solutions for fast EV charging offered by Infineon.
High-power solutions
E-mobility is well on its way to revolutionizing private and public transportation, reducing air pollution and making the earth a better place to live. Energy storage systems can also help save energy consumption by maximizing the allocation of energy.
Infineon is proud to be a key player in this green megatrend. Being a one-stop shop for high-quality components and solutions, Infineon's REF-DAB11KIZSICSYS board is to build up a solution for bi-directional DC-DC converters, which will enable customers to implement unique bi-directional charger designs in a very short time.
The 11 kW CLLC resonant DC-DC converter with bi-directional power flow capability and soft-switching characteristics is the ideal choice for on- & off-board chargers and energy storage systems (ESS). This reference design provides a complete and fully characterized hardware and firmware solution, and a user-friendly graphical user interface (GUI). It ensures that CoolSiC™ MOSFETs integrate with Infineon driver IC, XMC microcontroller, flyback controller, voltage regulator MOSFETs, current sensor, memory, and security & safety chip. It is the perfect way to improve cost-effective power density with high reliability and easy usage up to the next level!
In UG-2020-31, Figure 1 shows the placement of the different main components on the 11 kW bi-directional DCDC converter. The outer dimensions of the board, enclosed in the case, are 360 mm x 160 mm x 65 mm, which results in a power density in the range of 3 W/cm³ (5.5 W/g).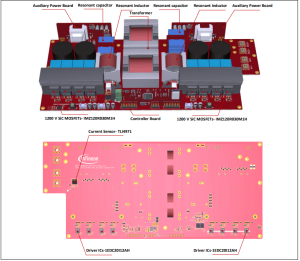 Electric traction for small vehicles is getting more and more popular among two- and three-wheelers ranging from pedal-assist e-bikes to e-scooters and motorbikes. Narendra shared with us the diversified array of the latest solutions from Infineon with respect to the same.
"India is the world's biggest two-wheeler market and is going through a major technology transformation, especially the electrification of the drivetrain. These smaller two- and three-wheelers are much easier and beneficial to convert into EVs, hence getting more and more traction. For this wide range of vehicles from pedal-assist e-bikes to e-scooters and motorbikes, you need motor controllers from as low as few hundred Watts to as high as 10-12k Watts", said Narendra.
"Infineon offers a wide range of Auto qualified products and solutions to address this entire range from 100-200W to 10-12kW. With these advanced technology innovative products and solutions, you can target 48V-96V system supplies and different types of motors like BLDC, PMSM, IM, etc. Infineon addresses all the active semiconductors needed for motor control application like Microcontrollers, Gate Drivers, MOSFETs, Rotor Position Sensors, Current Sensors, Power supply and Networking ICs, etc. "
"Besides motor controller, we also have innovative products and solutions for Battery Management System. The battery is the most critical part of the EV,
It's essential to monitor the vital parameters all the time. These parameters typically include Voltage, Temperature, State of Health (SOH), State of Charge (SOC), State of Power (SOP), etc. A reliable BMS is responsible for the efficiency, longevity, and safety of Lithium-ion batteries. As battery packs are susceptible to certain risks such as under/over-voltage, deep discharge, mechanical stress, over-heating, unstable chemical stage, and thermal runaway, a BMS is critical in detecting these events quickly and mitigating the potentially hazardous situation, if not, alerting the driver or passengers in time. So, BMS is a safety-critical application. The educated customers demand automotive quality and safety (ASIL-C/D) compliance. Infineon's BMS family is designed for automotive quality, highest safety (ASIL-C/D), and engineered for systems with voltages between 48V and 96V," Narendra further added.
In addition, we offer system expertise and handhold customers during the entire development life cycle. Hence we become their trusted partner and obvious choice.
The question of the safety of the driver as well as the passengers can never go out of the question, and perhaps it qualifies to be of paramount importance. Jeet agreed with me on the narrative and let us know about the state-of-the-art solutions offered by Infineon to assist and enhance automotive safety.
"The automotive industry is facing large structural change as vehicles are undergoing a profound transformation. The reasons are the desire for ever smarter and ever more connected cars, the need to comply with ever stricter emission standards and the calls for sustainable mobility. The future car is fully connected and always online. It is all-electric and autonomous.
Semiconductors are the backbone of technological developments that support the automotive megatrends of green mobility, automated driving, connectivity, and advanced security. Advancement in automotive innovation depends on dependable microelectronics – and thus on semiconductors such as Infineon's. Dependable electronics are the prerequisite of the autonomous, all-electric, fully connected car of the future", said Jeet.
"Infineon's dependable electronics are based on our quality approach and thus reliability and robustness of our products, and our holistic FuSa approach in combination with our cybersecurity expertise. We top that with premium services comprising high system understanding, our passion for innovation, and our operational excellence.
Automated driving and connectivity increase the need for safe and dependable electronic systems. These systems require highly integrated and safe electronic semiconductors. Today's standard for safe automated and safe autonomous systems is ISO 26262 which is already implemented in the Infineon automotive products and well-established in the company's development processes and all product support activities.
We provide components and chipsets as well as system knowledge to support all safety-relevant automotive systems. Our broad product portfolio addresses a wide range of functionalities with sensors, memory, computing and actuating chips complemented by power supply chips and communication ICs. Infineon provides all of the necessary supporting information and documentation, as well as support from our team of experts.
Functional safety is an inherent part of the proprietary development processes in Infineon. All products with assigned ASIL-classified safety requirements are subject to appropriate internal audits, assessments, and confirmations. With that, we ensure that these components fulfil the requirements for ISO 26262-compliant and ISO 26262-ready classifications – both are recognizable by our PRO-SIL trademark.
It's Infineon's goal that the driver becomes a passenger", Jeet further added.
Spokespersons: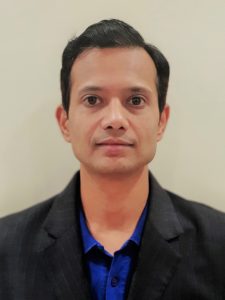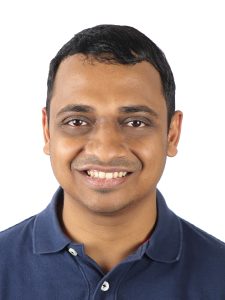 Mayank Vashisht | Sub Editor | ELE Times