STMicroelectronics has announced availability of its latest-generation NFC devices for contactless payments and data exchange. The new devices include the ST21NFCD NFC controller featuring the market-proven booster technology ST has recently acquired, and two new members in the ST54 System-in-Package (SiP) family that integrate the Company's latest Secure Element technology.
The ST21NFCD chip features active load modulation for faster, smoother transactions over longer distances, delivering better user experiences in mobiles, wearables, or IoT devices. It supports card emulation, reader/writer and peer-to-peer communication modes, and contains eFlash to permit full firmware update. It supports the NFC Forum's NCI 2.0 specification, which simplifies software development for interacting with NFC tags and supports batching and autonomous exchanges to minimize communication overheads.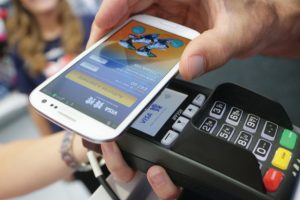 The IC also meets NFC Forum type 1-5 tag specifications, ISO/IEC 18092 NFC Interface and Protocol (NFCIP), and payment standards including EMVCo latest revisions. It is pre-certified in accordance with the Global Certification Forum (GCF) and PTCRB for integration in mobile devices, and can enable handsets to read MIFARE Classic encrypted tags.
Built-in power management and battery-voltage monitoring minimize any impact on runtime in a host-system such as a smartphone. The extremely high RF sensitivity, which allows the use of miniaturized antennas; the option to use an external clock source instead of a crystal; and the high output power of the chip that makes the DC/DC booster optional, each help save bill of materials and board footprint.
ST's latest ST54 Systems-in-Packages – ST54F and ST54H – contain the ST21NFCD NFC controller and an embedded Secure Element (eSE). The eSE is an ST33 secure microcontroller certified to the highest security standards including Common Criteria EAL5+ and EMVCo for financial applications, which ensures strong protection against duplication and hacking in a compact and easy-to-use integrated device. It leverages the proven ARM SecurCore SC300™ core and supports secure operating systems (OS) running Java Card and GlobalPlatform.
The ST54F integrates the ST21NFCD with the widely deployed ST33G1M2 Secure Element with up to 1.28MB of eFlash. The ST54H embeds a more advanced ST33J2M0 Secure Element with up to 2MB eFlash and twice the performance of the ST33G1M2 to connect with new digital secure applications from service providers.
The ST21NFCD and the new ST54 SiPs are in volume production, each packaged as a 4mm x 4mm x 0.8mm 64-pin WFBGA. Please contact your ST sales office for pricing options and sample requests.
For further information please visit http://www.st.com/en/secure-mcus/secure-nfc.html