System architects can now rapidly comply to international electrotechnical commission (IEC) and safety integrated level (SIL) standards to achieve long-term system reliability with the MAX17572 and MAX17574 Himalaya synchronous step-down DC-DC converters from Maxim Integrated Products. These highly efficient converters provide a 40% reduction in power dissipation and shrink solution size by 50% compared to other solutions.
The industrial market is digitizing at a rapid pace, all while continually improving the safety, performance, and intelligence of systems. Tasked with deploying processors from sensors to control units, designers must reduce power dissipation while managing space constraints. They are also hard-pressed with thermal challenges and meeting safety standard regulations—critical to robust long-term reliability, yet very time consuming. In addition, designers must account for high voltage transients up to 60V on a 24V or 48V bus.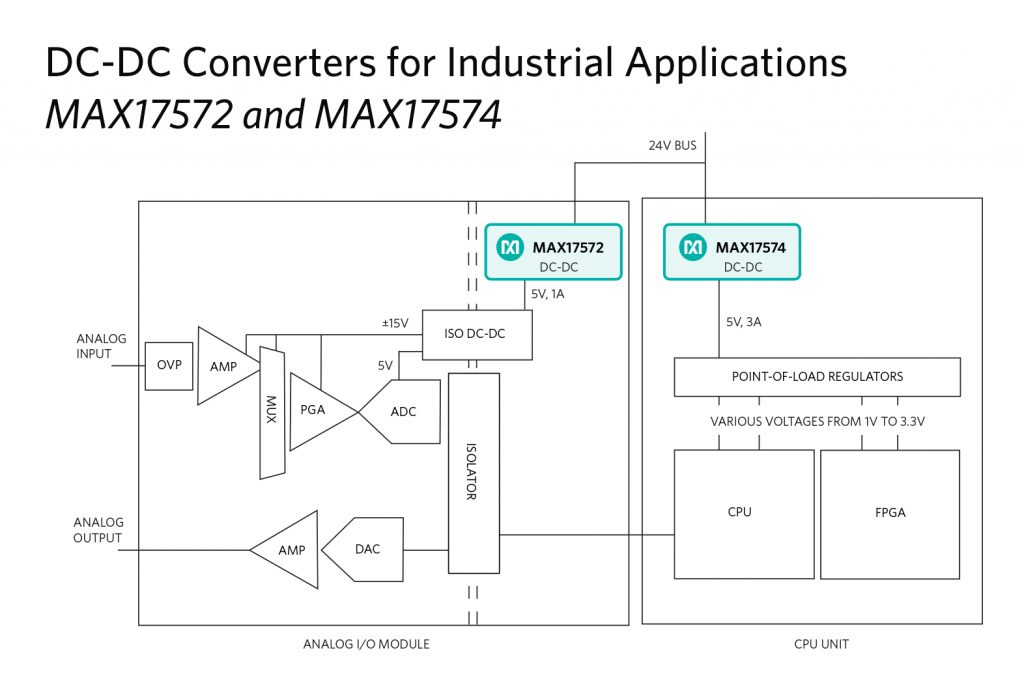 With Maxim's MAX17572 and MAX17574 DC-DC converters, designers can operate 4.5-60V as well as reduce power dissipation and solution size compared to other solutions to rapidly comply with the IEC 61508 safety standard. The converters guarantee 1A and 3A operation (5V output) and are ideal for high voltage industrial applications such as sensors, programmable logic controllers (PLCs), industrial controls, distributed supply regulation, and factory/building/power grid automation. They are also applicable for battery back-up, Power-over-Ethernet (PoE), and data centers. Operating over the -40-degree Celsius to +125-degree Celsius temperature range, the MAX17572 is available in a 12-pin, 3mm x 3mm thin-DFN (TDFN) package and the MAX17574 is available in a 24-pin, 4mm X 5mm TQFN package.