The grounds have been set for the 5G rollout, promising massive network capacity, ultra-low latency, and a more uniform user experience much greater masses. This provides the future platform for new use cases and new applications, for evolving the technology beyond 5G, and for the development of a sustainable society.
Anritsu is contributing to this journey by producing innovative solutions to enable the eco-systems that are either developing or using the technologies and accelerating the realization of new products and services for Industry Verticals.
In a candid conversation with Madhukar Tripathi, Associate Director, Optical Business & Marketing at Anritsu, I got an opportunity to procure some insights on how Anritsu is enabling a smooth and efficient rollout of 5G technology and what is the way Beyond 5G solutions. Further in that conversation, Mr Tripathi also was very kind to let me touch upon the upcoming MWC2022 event, and how Anritsu is ensuring everyone sees the latest test and measurement solution for Telecom without physically visiting MWC2022 Barcelona. Excerpts: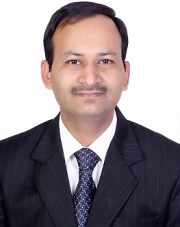 ELE Times: How is Anritsu contributing to Technologies and Measurements for Beyond 5G?
From wired to wireless, R&D to design, manufacturing to I&M—Anritsu has the solution for every 5G application, including chipsets, communications modules, smartphones, tablets, the "connected car", home appliances, security cameras, remote equipment operation, sensors (vibration, temperature, etc.), telemedicine, AR/VR base stations, broadcast stations, mobile backhaul/fronthaul, and more.
5G and beyond will need higher bandwidth and least possible latency in the order of 1ms- all such specs require new material that can handle these new specs & provide power-efficient devices.
Anritsu Radio Communication Test Station MT8000A, Vector Star® VNA, Signal Generators, Base Station Simulators /Signalling Tester MD8475B, Network Master Pro MT1000A, Field Master Pro MS2090A, Signal Quality Analyzer MP1900A, 5G NR Mobile Device Test Platform ME7834NR
and Shockline VNAs are various test instruments used in 5G testing and will be part of Beyond 5G.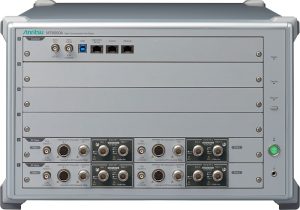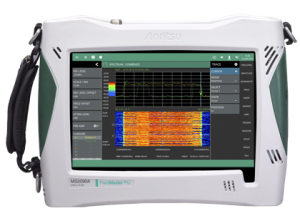 ELE Times: Please tell our readers about the need for material measurements in today's world of 5G/6G communication standards.
As part of the development of mobile communications systems through 3G and onwards to 4G and 5G Anritsu has worked on evaluating customers' products in cooperation with vendors of chipsets and communications modules as well as terminal makers, helping accumulate know-how about various technologies, including signaling, protocol and RF measurement, and forming the basis of the company's product strengths. Due to new frequency bands (high frequency) in 5G, material measurement is getting more attention. Various new types of Antenna are in demand as per use cases either for 5G TRx or M2M or IoT technology.
Any telecom product (either Antenna or cable or connector, or other system/interfaces) design needs a very careful selection of material to be used. Material measurements are integral when developing solutions in the millimetre-wave (mmWave) frequency range. PCB, antenna, radar measurement, and automotive/aeronautical engineers along with metrology and research institutes must characterize various materials to better understand their effects on how the electromagnetic waves travel through them (dielectric constant, tan delta, etc.). Material measurements are becoming more critical for the Aerospace and Defense industry.
Anritsu collaborates with partners such as Keycom & Compass Technology Group to provide test and measurement solutions for material characterization using Vector Start® and Shockline VNA from 1Hz to 300Ghz (Keycom) 1MHz to 90GHz (Compass Technology Group).
Anritsu's ShockLine and VectorStar series vector network analyzers are now compatible with all the available solutions from Keycom Technologies for various types of material measurements methods including a resonator, frequency change, probe type, co-axial tube and waveguide type S-parameter, free space, capacitance, epsilometery, and many more
We shall be demonstrating some of the solutions with our partners in MWC2022.
ELE Times: Please share with our readers some of the highlights of the MWC22 event. What are the technologies and solutions that will be showcased there as a part of the event?
MWC2022 is a prime event in the telecom industry and a global platform to showcase the new technology, solution, use cases. Key players from the telecom ecosystem participate in MWC every year.
Anritsu" Beyond testing, beyond limits, for a sustainable future together is the key message from Anritsu booth at MWC2022. Hall 5, Stand D41.
5G devices and network technology are currently being rolled out, delivering higher speed and capacity and lower latency. This provides the future platform for new use cases and new applications, for evolving the technology Beyond 5G, and for the development of a sustainable society.
Anritsu, a long-term partner of the Telecom Industry for test and analytics solutions is contributing to this journey by producing innovative solutions to enable the eco-systems that are either developing or using the technologies and accelerating the realization of new products and services for Industry Verticals.
Anritsu has 5 demonstration stations at MWC 2022 booth. These demonstration stations will have the latest technology demo as listed under:-
5G Standalone Automated Assurance—End-to-end insight into customer experience and network traffic with KPIs, detailed call-flow troubleshooting, real-time dashboards, analytics, and reporting. It assures 5G networks, virtualized and cloud-enabled, alongside 2G to 4G networks.
AI and Analytics—Anritsu uses patented machine learning algorithms to automatically detect anomalies in behaviour, isolate the root cause, and impacted subscribers ready for automated actions.
Technologies and Measurements for Beyond 5G – Global                 
3GPP has started work on '5G-Advanced' from Release 18, and industry/academia is already evaluating technologies for 6G. Anritsu is participating in multiple projects and consortiums to help define and shape the future telecoms technologies and the related measurement requirements. Key technologies such as sub-THz frequency band devices, full-duplex transmission, AI/ML in the air interface, disaggregated and virtualised networks, all photonic networks, and energy efficiency are all central themes for networks beyond 5G that are expected to create new measurement requirements.
New test concepts and capabilities to support these technologies are being developed and are used in research projects
(C ) 5G Ultra-Reliable Low Latency (URLLC) Validation— Applications like Smart Factory/Industrial automation, self-driving vehicles, and remote surgery require extremely low latency of one millisecond or less and high reliability. Maintaining these stringent requirements even when mobile devices are in motion requires new handover techniques to ensure seamless data continuity. The demonstration shows a new handover method introduced by 3GPP which targets to achieve a data interruption time of almost zero.
5G Network Slicing for Automotive V2X with dSPACE—
Anritsu MT8000A Radio Communication Test Station and dSPACE VEOS (a PC-based simulation platform), with dSPACE AURELION sensor-realistic simulation, provides 5G Network slicing testing environment for Automotive V2X Use Cases. We will demonstrate AICW (Advanced Intersection Collision Warning), which is one of the use cases of V2X. By using communication technology such as 5G, sensor information outside the vehicle can also be obtained. This allows the vehicle to detect the risk of an intersection collision and alert the driver accordingly. V2X data and video data collected by camera sensors are sent to warn of a bike in the blind spot of the intersection, using 5G Network slicing technology to provide separate URLLC connection for the V2X hazard warning data and eMBB connection for HD video sharing
5G Field Test
The Complete Toolbox for 5G Base Station Delivering the highest levels of performance available in a handheld RF spectrum analyzer, MS2090A Field Master Pro provides a comprehensive toolbox for RF field engineers installing and maintaining 5G networks. 5G beam analyzer, Modulation quality, Time Offset, Interference hunting and cable & antenna analyzer measurements are all included. Frequency options cover FR1 and FR2 bands
5G Validation for Low Latency and Synchronization Ultra-Reliable Low Latency Communication (URLLC) is key for applications such as autonomous vehicles, medical, and Multiple Access Edge Computing (MEC) linking Data Centers to 5G Mobile Access. Combined with network synchronization, it ensures that information is delivered quickly and reliably to wherever it is needed. Anritsu MT1000A Network Master Pro, a portable easy to use test solution with 10G, 25G and 100G interfaces, now with a new enhanced integrated oscillator, accurately analyse critical network performance parameters to ensure URLLC and d end-to-end quality of service.
ELE Times: What solutions does Anritsu is providing for the following:
Smart Factory – 5G Network Slicing & MEC 
Anritsu will demonstrate Rapid Test Designer (RTD) and MT8000A Radio Communication Test Station simulating a Standalone (SA) mode 5G NR network and InterDigital's Intelligent Edge solution for smart factories.
This demo station shows A high-level overview of the concepts of 5G network slicing and multi-access edge computing. Including a demonstration achieved with Anritsu Test Solutions.
5G Assisted GPS CAT Solutions
Anritsu ME7834NR 5G Mobile Device Test Platform is worldwide accepted platform for 5G technology. And we will be demonstrating this to show Assisted GPS (A-GPS) test functionality to meet 5G New Radio (NR) Carrier Acceptance Testing (CAT) requirements for multiple North American operators.
ELE Times: What according to you is the objective of this event?
A key objective of Anritsu's participation in MWC 2022 is to demonstrate the latest state of art Test and & Measurement solution to the telecom ecosystem. MWC2022 provides an opportunity to connect with customers and learn new technologies while exploring new horizons in the telecom sector.
One important point about Anritsu's presence is that we will have a virtual Technology Showroom which will be live after MWC2022. This ensures everyone sees the latest test and measurement solution for Telecom without physically visiting MWC2022 Barcelona.
Please feel free to register for accessing virtual MWC2022  info.goanritsu.com/220228-mobile-world-congress
Mayank Vashisht | Sub Editor | ELE Times