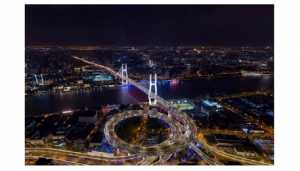 Signify has switched on its largest-ever connected architectural lighting project, stretching some 50,000 scene-changing LED luminaires nearly a mile over 40 buildings and three bridges along financial and tourist districts of Shanghai's sprawling waterfront.
The Shanghai Municipality and Signify switched on the LED lighting earlier this month to signal the opening of the city's week-long China International Import Expo, in a ceremony witnessed by Chinese president Xi Jinping. Shanghai is directly administered by the country's central government.
The LED lights span three bridges, the Yangpu, Nanpu, and Xupu, which all cross the Huangpu river. Landmark buildings lit by the luminaires include the Shangri-La Hotel and the Shanghai Jinmao Tower in the Pudong district, and in all about 27,000 white luminaires illuminate the red tops of Pudong's skyscrapers.
The 1.2-km-long (0.75-mile) project includes a number of colored lights as well, including across the three bridges. At one point on the riverfront, red LED lights create a waterfall effect.
Using Signify's Interact Landmark control system, Shanghai can alter individual and groups of lights to create different scenes. The Interact systems also serves to monitor the lights themselves, noting usage and energy consumption and identifying maintenance issues.
"The upgraded lighting system helps demonstrate Shanghai's cultural heritage in a more vivid way, creating impressive night scenes in an energy-efficient way," said John Wang, Signify's President of greater China and senior Vice President.
Signify said the LED lighting and controls will reduce energy consumption by 50–70% "when compared to previous areas lit by conventional lighting." An optional "late night" mode helps in the energy-saving effort.
The Shanghai project is at least the second large-scale architectural project switched on over the last year by Signify in China. The company has turned the 1083-ft China World Trade Center Tower in Beijing into a giant video screen showing varying scenes.