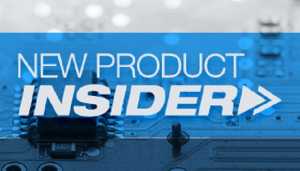 Mouser Electronics, Inc. specializes in the rapid introduction of new products and technologies. As the industry leader in New Product Introductions (NPIs), Mouser makes it a priority to stock the newest products and technologies from our 750+ manufacturer partners, giving customers an edge and helping speed time to market. Last month, Mouser launched more than 382 new products ready for same-day shipment.
Some of the products introduced by Mouser last month include:
Maxim Integrated MAXREFDES101 Health Sensor Platform 2.0
The Maxim MAXREFDES101 incorporates a comprehensive range of Maxim products to provide a rapid prototyping, evaluation, and development platform for medical applications, providing accurate monitoring of body temperature, heart rate, and electrocardiogram (ECG).
Molex Spot-On 1.5mm and 2.0mm Connector System
Molex Spot-On 1.5 mm and 2.0 mm connector system is the first SMT potting wire-to-board connectors on the market. The system improves process capabilities and mechanical reliability and protects against water damage.
Renesas Electronics Synergy AE-CLOUD2 LTE IoT Connectivity Kit
The Renesas Synergy AE-CLOUD2 kit offers a complete hardware and software reference design, allowing developers to evaluate cellular connectivity options and quickly create low power wide area (LPWA) cellular Internet of Things (IoT) applications.
Bourns BPS Precision Pressure Sensors
Designed for the advanced sensor needs in industrial automation, energy, building & home control, low/medium-risk medical and mil/aero applications, the Bourns BPS line has been designed to provide high sensitivity/accuracy, long-term reliability, high temperature capability and harsh media compatibility.
https://www.mouser.in/For more info, log on