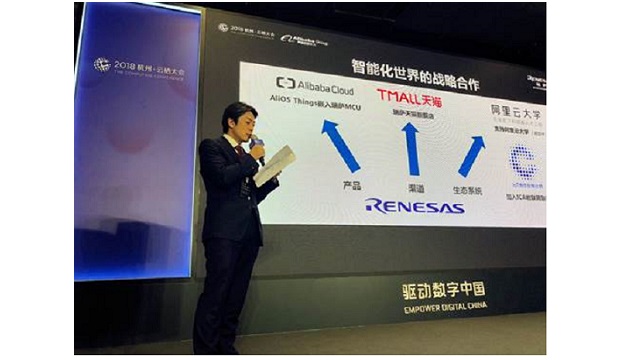 Renesas Electronics Corporation, a premier supplier of advanced semiconductor solutions, announced a strategic alliance with Alibaba Cloud, a subsidiary of Alibaba Group Holding Inc., that will empower Internet of Things (IoT) developers to accelerate the growth of China's IoT market. The close technology collaboration includes embedding AliOS Things IoT operating system (OS) in the Renesas RX65N/RX651 microcontroller (MCU) lineup, expanding online sales channels, and Renesas joining Alibaba's IoT ecosystem.
Alibaba invited Tomomitsu Maoka, Senior Vice President, General Manager, China Business Unit of Renesas to deliver a keynote speech at The Computing Conference 2018, held September 19-22 in Yunqi Town, Hangzhou. The speech outlined Renesas' commitment to China's ongoing IoT development and close cooperation with Alibaba.
Embedded AliOS Things in RX65N/RX651 MCU Lineup
Following the recent launch of the 16-bit RL78 MCU Family supporting AliOS Things' basic version, Renesas is now launching its high-performance 32-bit RX65N/RX651 MCU Group to support the AliOS Things' advanced version. By embedding AliOS Things into RX65N/RX651 MCUs, developers can easily connect IoT node devices and gateways to the Alibaba Cloud.
Joint Development of an IoT Ecosystem 
To create a superior IoT ecosystem, Renesas is joining Alibaba Cloud University and the IoT Connectivity Alliance (ICA) to help Alibaba build out a complete ecosystem. Renesas plans to offer online and offline Alibaba Cloud University training courses related to developing IoT devices. Renesas also plans to support ICA members build new alliance standards, as well as national and international IoT standards that spur IoT market growth.
"The Renesas/Alibaba collaboration will speed time to market for IoT developers by providing complete solutions from chips to cloud connectivity," said Tomomitsu Maoka, Senior Vice President, General Manager, China Business Unit of Renesas. "Combining our rich MCU lineup and comprehensive semiconductor solutions with Alibaba's powerful IoT ecosystem will help customers achieve China's growth plans for smart cities, smart homes, and smart factories."