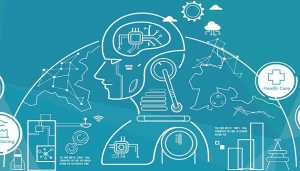 OMRON has been working on expanding its offerings in the Sensors arena that have utility across varied industries like building automation, factory automation, home appliances, vending machines, robotics, automotive, energy and medical equipment. ELE Times' Nikita Sharma caught up with Vinod Raphael, Country Business Head, OMRON Electronic and Mechanical Components, India to understand the firm's strategy to realise the mission of Smart Cities. Excerpts:
ELE Times: Omron is into sensing & control. Give us a brief on some of the technologies that you are working on, with the solutions in creating and enabling ecosystem for the government's missions.
Vinod Raphael: Centered upon 'Internet of Things' based solutions, OMRON has been working on expanding its offerings in the Sensors arena that have utility across varied industries like building automation, factory automation, home appliances, vending machines, robotics, automotive, energy and medical equipment. These are highly compact and durable sensors which when embedded in equipment/devices, collect data and contribute in the proper functioning of the complete solution.
ELE Times: In the last 4 years, there has been a lot of emphasis in creating Smart Cities and other connected technologies. How is Omron contributing to that story?
Vinod Raphael: To realise the mission of Smart Cities, we must first focus on making our homes and buildings smarter and then move towards bigger objectives. OMRON has developed multifunction environmental sensors which can sense variety of factors around us such as: temperature, humidity, barometric pressure, sound, acceleration, eTVOC (equivalent Total Volatile Organic Compounds), etc. The best part is, these sensors don't require any additional set-up or wiring, they can be carried along anywhere – buildings, factories, cars, public places to obtain useful data. The sensors have an internal memory and are also equipped with Bluetooth and mobile connectivity which helps to transmit and accumulate data in any cloud server.
ELE Times: Since this sphere is still in its nascent stage as far as India is concerned, I'm sure you must've encountered several challenges along the way. Walk us through some of those challenges.
Vinod Raphael: I think as an enterprising and proactive organization, OMRON has leveraged the technology in our arsenal to meet the evolving needs of society. The electronics sector of India is still very unorganized and with the import of low-cost Chinese products, quality manufacturers and industry at large take a blow. Now more and more countries are adopting protectionism to help insecure local manufacturers which also impacts the business as manufacturers who are not producing locally must pay higher import duties thereby increasing the cost of end products. Considering all these factors, policy makers must provide a level playing field for all the quality manufacturers which will also be in the best interest of end consumers.

 ELE Times: Omron is working on Industrial Automation, and I am sure that many companies out there are working on the similar technology, how would you differentiate yourself from some of your competitors?
Vinod Raphael: OMRON has leapfrogged from a components facilitator to a full-fledged end-to-end solutions provider by providing customized solutions. We have been collaborating with machine makers and original equipment manufacturers in diverse industries and setting new benchmarks in terms of quality, productivity, energy efficiency, safety, timely delivery, etc. On the sensors side too, we have started partnering with some of the top companies in their segments to understand how they want to evolve their products and technology and how our solutions can be customized as per the requirement to help them convert their vision into reality.
ELE Times: What do you think about the need of smart energy in India?
Vinod Raphael: OMRON has a very strong and proven capability when it comes to promoting the adoption of smart energy solutions in India. They say, "Energy saved is equal to energy produced", and we all know that our power sector has been grappling with issues like AT&C losses, power theft etc. We have Tamper Detection Sensors which can be embedded in smart meters. These sensors can detect various kinds of meter tampering such as ESD, Jammer, Magnet, Shock, Tilt and Temperature. One of the notable features is its ability to detect ESD and jammer tampering which are considered non-detectable. The sensor not only detects but also measures the value of tampering.
ELE Times: Please share about the company's growth strategy for FY2018-19.
Vinod Raphael: For OMRON, customer remains a top priority and we are always ready to take up challenges which not only create value to our clients but also improve the overall end-user experience. When it comes to sensors, we want to facilitate accurate and lean data to help innovators develop customized solutions. We strive to anticipate the needs of the society and find the right partners and system integrators who share our vision and wish to create solutions meant for the greater good of public.