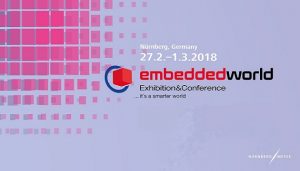 Nuvoton Technology Corporation, a leading microcontroller provider, is going to present popular application platforms including the NuMaker Smart Home Solution by NuMaker PFM IoT platform, Wireless Charging Solution, Wireless Power Supply and Data Transfer solution, LoRa LPWAN Badge, and DALI-2 Digital Lighting Control at Embedded World 2018 in Nuremberg, Germany, from Feb 27th to Mar 1st. Featured items include the Arm Cortex-M core NuMicro Family products — M0564, Mini57, and NUC970 series microcontrollers.
The latest NuMicro Family product highlights include:
M0564 – with Arm Cortex-M0 core, the M0564 series with 256 KB Flash and 20 KB SRAM operates at up to 72 MHz. It features an integrated hardware divider for firmware execution improvement, and IOs which can be adjusted to a wide range of amplitude from 1.8V to 5.5V for external peripherals, and is suitable for smart meter applications.
Mini57 – with Arm Cortex-M0 core, the Mini57 series with 32 KB Flash and 4 KB SRAM operates at up to 48 MHz. It supports 12-bit ADC with two sample-and-hold circuits, includes a programmable 8-level gain amplifier (PGA) which helps reduce PCB cost, and is ideal for smart home and IoT applications.
N76E616 – with 1T 8051 core, the N76E616 series provides 18 KB configurable Data Flash and 512 B SRAM, high immunity of ESD HBM 8KV, MM 400V/EFT 4KV and supports 3×32, 4×32, and 6×30 COM/SEG LCD for applications such as LED controller and thermostat.
N76E885 – with 1T 8051 core, the N76E885 series offers 18 KB configurable Data Flash, high immunity of 8KV ESD/ 4KV EFT and two UARTs operating up to 781.25 kHz. It is ideal for wireless charging and data transmission in small appliance applications.
NUC970 – with ARM926EJ-S microprocessor core, the NUC970 series offers MCP DDR memory in LQFP package. It supports dual High-Speed USB 2.0 host and dual Ethernet 10/100Mb MAC for IoT gateway applications.
For more information, please visit www.nuvoton.com