ULVAC, Inc. is pleased to announce the NA-1500 dry etching system for 600mm advanced packaging substrates, providing for uniform Descum and Ti etching processes.
Higher data transfer speeds require higher-density packaging technologies, while advanced mobile and wireless devices require thinner and higher-pin-count IC packages. Fan-Out Wafer Level Packaging (FO-WLP) is widespread, while Panel Level Packaging increases substrate size from 300mm to 600mm.
While there are many 200mm/300mm wafer dry etching systems in the market today, there was no dry etching system for 600mm substrates, providing for a uniform Descum process and Ti etching process. ULVAC developed the new system to address this need, and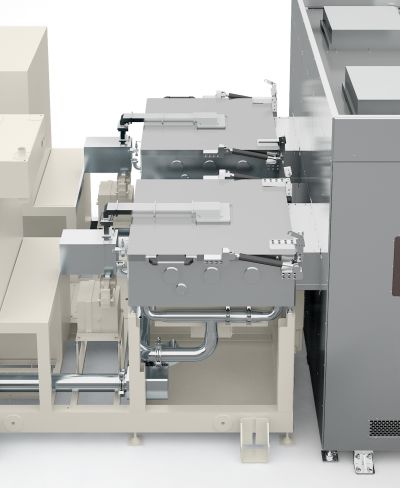 support mass-produced packaging processes.
The new NA-1500 dry etching system is made possible by enhancing our proven plasma source. Our plasma source enables fast, low-temperature etching in the resin layer, which had been previously impossible with existing CCP methods.
Our plasma source is also applicable to fluorine gases, so seed layer Ti etching, which requires a wet process, can proceed without side etching. SiO2 and SiN etching is available on the NA-1500 as well.
The NA-1500 dry etching system provides stable transfer and processes without abnormal discharge, ensuring warpage from the enlarged substrate is never an issue.
Applications:
1. Descum
2. Desmear
3. Surface treatment (Hydrophobicity <-> Hydrophilicity)
– Pretreatment for wet process such as plating, etc.
– Pretreatment for underfill
4. Resin material ashing
5. Seed layer Ti etching
6. SiO2/SiN etching
For more  visit : www.ulvac.co.jp/en/