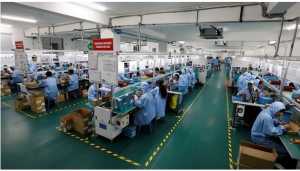 India is the second-largest mobile phone manufacturer in the world after China. From just two mobile phone manufacturing units in 2014 to 268 mobile handset and accessories manufacturing units in 2019 tells the remarkable story of mobile manufacturing in India. India has achieved tremendous success in mobile phone and component manufacturing in the last four years with more than 95 per cent of domestic consumption now being produced in India. After domestic market saturation India has set a target of Rs 7.7 lakh crore of exports by 2025.
It is due to Make in India and Digital India program that Uttar Pradesh has emerged as the new mobile manufacturing center in the country. Noida is set to manufacture 30% of all mobile phones in the world by 2025. Pankaj Mohindroo, chairman of ICEA said that Noida is envisioned to become a global hub for mobile phone and components manufacturing. He said, "We estimate that out of the targeted $190 Bn value production and 100 Cr volume of phones to be produced by 2025, 30% of mobile phones will be manufactured in Noida, which is over $57 Bn productions of just phones, a 4x increase from the present numbers."
Samsung launched the world's largest mobile factory in Noida in July 2018. The factory aims to double the capacity for mobile phones manufacturing from 68 million units a year to 120 million units a year by 2020. Other Chinese mobile phone manufacturers like Xiaomi, Oppo and Vivo produce phones in the country. Apple has already started the assembling of iPhone 7 at Bengaluru. The National Policy on Electronics 2019 has set the target of promoting domestic manufacturing and export in the entire value-chain of ESDM to achieve a turnover of Rs 26 lakh crore by 2025. This includes a targeted production of one billion mobile phones by 2025, valued at Rs 13 lakh crore, including 600 million mobile handsets valued at Rs 7 lakh crore for export.
Thanks to the policy turn around mainly to schemes such as Modified Special Incentive Package Scheme (M-SIPS) to provide financial incentives across the ESDM value chain to compensate for cost disability in manufacturing and Electronics Manufacturing Clusters (EMC).
India is emerging as the fastest growing smartphone market with a consumer base of more than 49 million units in Q-3 2019 despite the economic slowdown trends in other sectors. Smartphone manufacturers have shown a tremendous growth in 2019. The current market scenario is changing, Government is reforming the structure with better policies for foreign investors and incentivizing the financial condition for more stability.
On the basis of Quarter-3 2019 smartphone market share, we have listed down the top manufacturers of smartphones in India. 87% of overall market share has been covered by 5 manufacturing giants and the rest is captured by other manufacturers like Oneplus, Apple, and Lava etc.
Xiaomi
Currently this Multinational Chinese manufacturer is very well known for its budget smartphones and raised as one of the most growing smartphone manufacturing company with high end features.
Recently, with an Indian market share of 26%, Xiaomi ranks 1st in Indian market, emerge as one of the top most leader in electronics manufacturing, and has set up test and manufacturing plants in India. Company carries strong image of value for money electronics items. Xiaomi has invested ₹35 billion in the Indian market so far. Shipping 100 million smartphones in India alone is a remarkable feat for Xiaomi, which operates in dozens of markets. The company last year shipped 100 million handsets in about 10 months worldwide (India included) in what was a record for the company.
Samsung
With recent market share of 20%, Korea based smartphone manufacturing company Samsung ranks at no. 2 position in India. In 2018, Samsung inaugurated World's Largest Mobile Factory in India. Samsung India also launched its 'Make for the World' initiative with an aim to export mobile handsets produced in India to overseas markets. With this new expansion, Samsung will double its present limit for mobile phones in Noida from 68 million units every year to 120 million units per year, in a phase-wise extension that will be finished by 2020.
As a genuine market pioneer, Samsung keeps on providing edge innovation and advancing experience of Indian and international consumers in the context of advanced mobile phone technology. All Samsung cell phones, including the lead Galaxy S9, S9+ and Galaxy Note8, are made at the Noida plant.
Vivo
With a market share of about 17% in Indian market, the China based company is taking over the market very rapidly and giving a neck to neck fight to other mobile manufacturing companies. Company plans to invest 7500 Crores over the next few years to sharply expand its production capacities, initially for the India market and later for exports, making it among the largest investments into local manufacturing by any smartphone maker. Company is playing strong in the mid-range market with several models.
The company has been capturing the Indian rural market with great marketing selling strategies, reached its highest-ever share in the India smartphone market driven by good performance of its mid-segment series and increased focus towards the online segment with its recently launched devices. The new manufacturing plants for the company backed by China's BBK Electronics will come up in Greater Noida.
Realme
This Shenzhen-based Chinese smartphone manufacturer holds 4th position in Quarter-3 Indian market with a share of 16% and has shipped 10 million smartphones in 2019 alone, according to a new research. With over 800 per cent annual growth, Realme has become the fastest growing smartphone brand in the past quarter. It has happened despite a steady decline in the global smartphone market for the past few quarters. Realme has so far launched a series of budget to mid-range phones that have often competed head-to-head with Xioaomi's Redmi phones.
Realme is investing Rs 300 crore in setting up eight surface mounting technology (SMT) lines to increase capacity anticipating high demand for its smartphones. Company is aggressively expanding its offline presence from 7000 stores to 20,000 stores covering 180 cities by the end of this year.
Oppo
The Company is a leading manufacturer of smartphones, Blu-ray players and other electronic devices. Currently the company holds 5th position in mobile manufacturing and selling business with a market share of 8% in India. Recently, at the Qualcomm 5G Summit 2019 in Barcelona, the company has announced to launch a dual-mode 5G smartphone by the end of this year. The company also has plans to further scale the manufacturing capacity to produce 100 million smartphones annually at its Greater Noida facility and planning to export to South Asia, Middle East and Africa markets. OPPO aims to produce about 90 million phones annually in India by the end of 2020.
Chinese company wants to use the booming smartphone market in India to its advantage. It is committed to the 'Make in India' initiative and also wants to export smartphones to South Asia, Africa, and Middle East countries by the end of 2020 to become an export hub.
Others
Capturing the 13% of Indian Market share, premium brands like Apple, OnePlus & ASUS, and other small manufacturers like LAVA, Intex, Karbonn have shown a tremendous growth in selling business in Q3 of 2019. Oneplus emerged as the best premium smartphone brand, which earns over a third of its revenue from India, plans to invest Rs 1,000 crore in its R&D centre in Hyderabad over the next three years.
Apple has showed their growth with a huge profit and is set to commit fresh investments upto $1 billion through its partner in coming years. The move comes as the company plans to begin export of 'Made in India' iPhones across the world.
 Conclusion
The ongoing US-China trade war is what thriving the Indian manufacturing market with billions of dollars. Smartphone manufacturers are shifting their interest of expansion in favour of India because of the diversification and a growing consumer base.
With a record level rise in units, manufacturers are advancing their portfolio of smartphones with latest and advanced technology. We can't expect 100% in-house manufacturing of a technology-driven industry to happen overnight. 'Made in India' is a positive step by the centre and state governments, and with time there is bound to be more progress. It will bring more industries since India is one of the largest mobile markets in the world.