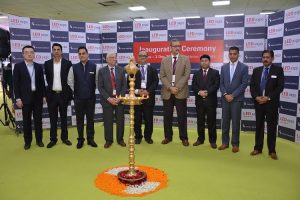 Led Expo, India's renowned fair for LED lighting, components and technologies were inaugurated on 30 November 2017 at Pragati Maidan, New Delhi. Organised by Messe Frankfurt Trade Fairs India Pvt Ltd the show is regarded as one of the most influential events for the business of LED products and technology.
Over 370 companies are showcasing the latest price competitive LED solutions for the Indian market. Besides India, exhibitors from 10 countries including China, Finland, Germany, Hong Kong, Italy, Korea, Singapore, Taiwan, the UAE, and the USA are present, leading to75% increase in the international exhibitor participation.
Talking about the future technologies for the LED sector, Mr. Sujan, Secretary-General, ELCOMA shared: "The Indian LED industry which stood at 20,000 crores in 2016 will soon touch INR 30,000 Crore by 2020 growing at CAGR of 10-12%. While solar is the future, the immediate next step for manufacturers would be intelligent lighting."
Among the many highlights of the show is a company based in Gurugram, Haryana – EcoEarth Electric Pvt Ltd which has launched a unique Solar Emergency Bulb. Sharing his thoughts about the Indian market and the innovative technology, Divyansh Batra, Director, Ecoearth Electrical Pvt Ltd said: "This is our third time at LED Expo and the response we've got has been amazing. Good lighting is the current requirement of the Indian market. Ecoearth as a company feels it has a great opportunity for the innovation it can offer to this market. We've come up with LED solar emergency bulbs that are an excellent alternative solution for street hawkers and the rural markets. These lamps are available at INR 450."
Another highlight that visitors can see at the fair includes RBL Technologies, showcasing a wide range of Steinel products. These products range from home lighting control, smart LED lamps and sensors with passive infrared, high frequency, ultrasonic and camera sensor technology. The sensors can switch on the lights when there is an occupancy detected and off the lights when no one present. These solutions are beneficial especially for irregularly shaped stairwells, long corridors, one-person or open-plan offices, washrooms or warehouses and commercial properties. Adapting to such products will let people live a smart and safe life.
Other companies exhibiting their products include Seoul Semiconductor, Fulham Pvt Ltd, Rabyte Electronic (Osram Opto), Starflux (MLTC Energy), Componix India, Ramakrishna Electro Components, All True Components Indian Automated Die Casting Co, Semiconic Devices Pvt. Ltd, Lumens Technologies, Crescent Lighting, Neelkanth Industries, Key Operation & Electrocomponents Pvt Ltd and Kalki Lighting to name a few.
Open to decision makers and business professionals working towards city development as well as architects, interior designers, urban planners, these innovative, smart and energy efficient solutions will be on showcase at the LED Expo exhibition opening on 30th this month.
The trade fair was being supported by Ministry of Commerce and Industry (Make in India); Ministry of Electronics and Information Technology (Digital India); Bureau of Energy Efficiency (Ministry of Power); Luminaire, Accessories, Components Manufacturers Association (LACMA); Electronic Industries Association of India (ELCINA); Indian Building Congress (IBC), and Solar Energy Society of India (SESI). LED Expo ran until 2nd December in halls 8 – 12A at Pragati Maidan, New Delhi.