As many IT workers develop greater technology skills and apply them to advance their careers, many digital workers in non-IT departments believe their CIO is out of touch with their technology needs. A Gartner, Inc. survey* found that less than 50 percent of workers (both IT and non-IT) believe their CIOs are aware of digital technology problems that affect them.
The survey further revealed that European workers said that their CIO is more aware of technical challenges (58 percent) than U.S. workers believe they are (41 percent).
"Non-IT workers aren't likely to use the IT help desk as their first source of assistance, and are less likely to believe in the value of their IT organization," said Whit Andrews, vice president and distinguished analyst at Gartner. "Only one in five non-IT workers would ask their IT department to supply best practices for employing technology."
The survey also revealed that millennials were less likely to approach IT support teams through conventional means. About 53 percent of surveyed millennials outside the IT department said that one of their first three ways to solve a problem with digital technology would be to look for an answer on the internet.
Non-IT workers were overall more likely than IT workers to express dissatisfaction with the technologies supplied for their work. IT workers express greater satisfaction with their work devices than do workers outside IT departments. Only 41 percent of non-IT workers felt very or completely satisfied with their work devices, compared to 59 percent of surveyed IT workers.
"Many IT departments will be more successful if they are able to provide what workers say they need, and provide inspiration so they can increase the workforce's digital dexterity," Mr. Andrews added.
IT Workers Feel More Confident
IT workers feel more confident than non-IT workers at using digital technology. The survey found that 32 percent of IT workers characterized themselves as experts in the digital technologies they use in the workplace. Just 7 percent of non-IT workers felt the same. "While we expect IT people to feel more confident with digital technologies, these findings highlight how hard it is to help non-IT workers feel as digitally dexterous as IT workers do," said Mr. Andrews.
Sixty-seven percent of non-IT workers feel that their organization does not take advantage of their digital skills. "Organizations seeking to mature and expand their digital workplaces will find that expanding digital dexterity will accelerate this across the organization," added Mr. Andrews.
Digital Technology Satisfies 72 Percent of Digital Workers
About three in four digital workers either somewhat agree (48 percent) or strongly agree (24 percent) that the digital technology their organization provides enables them to accomplish their work.
The most common types of workplace application used by survey respondents were real-time messaging (58 percent), sharing tools (55 percent), and workplace social media (52 percent — see Figure 1).
Figure 1. The Shape of Workers' Days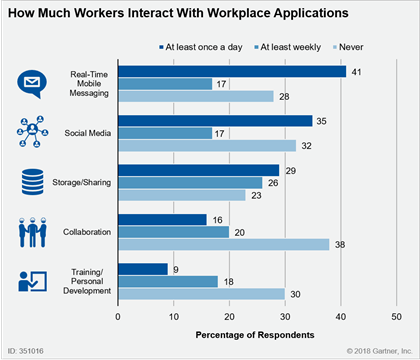 However, significant distinctions exist in the workplace. "Millennial digital workers are more inclined than older age groups are to use workplace applications and devices that are not provided by their organization, whether they are tolerated or not," said Mr. Andrews. "They also have stronger opinions about the collaboration tools they select for themselves. They are more likely to indicate they should be allowed to use whatever social media they prefer for work purposes."
In addition, relative to the total workforce, a larger proportion of millennials consider the applications they use in their personal lives to be more useful than those they are given at work. "Our survey found that 26 per cent of workers between the ages of 18 and 24 use unapproved applications to collaborate with other workers, compared with just 10 per cent of those aged between 55 and 74," Mr. Andrews said.