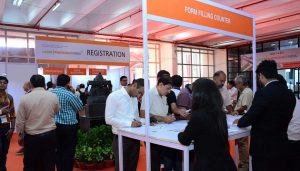 The coming edition of LASER World of PHOTONICS INDIA 2018 will offer the exhibitors more space and its attendees more technologies to explore and source. India's dedicated trade fair for laser and optical technologies will take place from September 26 to 28, 2018 at the Bangalore International Exhibition Center and will bring together manufacturers, distributors, buyers from various user industries and scientists under one roof.
Bhupinder Singh, Chief Executive Officer of Messe Muenchen India remarks: "The demand for laser and optical technologies is witnessing a rise owing to their high-precision and speed. Increasingly, more application industries all over India and across sectors are driven to explore newer technologies to uplift their efficiency and output."
The applications of photonics are ubiquitous and are found in all areas from everyday life to the most advanced science. Companies looking to upgrade their technology in order to achieve high speed and precision will particularly benefit from the trade fair. The entire value chain in photonics including laser components, cable and optical fibers, laser systems, sensors, optics, software, manufacturing technologies, process control, quality inspection and various allied solutions will be on display for the benefit of the attendees.
In addition to technologies on display covering more space, the supporting programs organized in partnership with leading trade bodies and institutions will offer extra benefits to all exhibitors and visitors.
"This year we again have specialized displays of technologies including Additive Manufacturing and Machine Vision. Overall, a combination of live products and technologies along with high-level supporting programs will make LASER World of PHOTONICS INDIA 2018an ideal place to capture the technological pulse of the industry." concluded Singh.