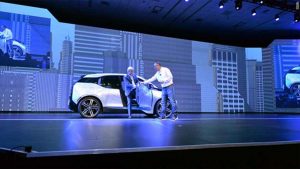 Intel has set up a new group called the Automated Driving Group (ADG) led by Doug Davis and Kathy Winter.
Today's announcement comes after CEO Brian Krzanich announced a $250 million investment for autonomous driving.
Intel is teaming with Delphi and Mobileye for Self-Driving Cars and cars based on the Intel solution are expected to hit the roads by 2019.
While the companies will use the Intel Core i7 processors for now, it would later move to a more powerful and unnamed Intel processor to be unveiled in a few weeks.
Intel says it has has booked more than $1 billion worth of design win revenue and has 49 design wins with leading global car manufacturers including BMW, Daimler, Hyundai, Infiniti, Jaguar XF, Kia, Lexus, Mini Cooper, Rolls Royce, Toyota, Tesla and others.