The year 2021 has been a tough year for everyone. Industries across the globe were shut, companies were barely floating above the economic ocean, in fact, and this year had pushed the whole world almost 2 to 3 years backwards, when all we were aiming was to achieve the things new and unheard-of milestones. The unprecedented outbreak of Covid 19 had a fierce impact on all the sectors of the global economy. Businesses that were hoping to expand and grow were now barely surviving, and no sector remained untouched from the horrors of the pandemic.
However, things are changing their course now. As the whole world is rapidly moving forward with vaccination drives, the blanket of the outbreak is being pushed away. Businesses and industries are going back to Normal, but with a 'New Normal'. They are optimistic to recover the damage that has been made by the pandemic and foresee a brighter future for their operations.
Digi-Key Electronics, headquartered in Thief River Falls, Minn., USA, is recognized as both the leader and continuous innovator in the high service distribution of electronic components and automation products worldwide. As the original pioneer in this space, Digi-Key provides more than 12.6 million components from over 2,000 quality name-brand manufacturers with an industry-leading breadth and depth of the product in stock and available for immediate shipment. Beyond the products that drive technology innovation, Digi-Key also supports design engineers and procurement professionals with a wealth of digital solutions and tools to make their jobs more efficient.
ELE Times Sub Editor and Technology Correspondent Mayank Vashisht got an opportunity to have a profound conversation, with Ramesh Babu, Chief Information Officer, Digi-Key, where he reflected back upon 2021, and discuss the optimism for the next year, and provide an outlook for 2022, for their respective industry.
Excerpts: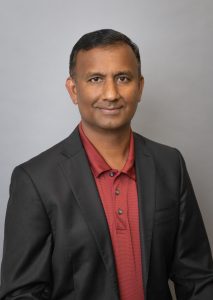 ELE Times: What would be the exciting industry developments to look forward to in 2022?
Wireless connectivity, industrial automation and electrification, among many other trends, will continue to drive innovation in 2022 and for many years to come, and Digi-Key will continue to provide all the components and services necessary to fuel that innovation. We view IoT as a key industry trend that will continue to drive significant growth in 2022. Demand from nearly every industry vertical continues to drive significant interest and investment in IoT development and implementation.
In the past year, there has been a surge in new product introductions in every industry, from automotive to medical, industrial automation to consumer devices and everything in between, and we look forward to that pace of design and new product introductions continuing in 2022.
ELE Times: What innovations are lined up for 2022 and for what application areas? (be specific to your company)
Digi-Key has continued to invest in strategic initiatives including increasing capital infrastructure investments in recent years to scale capacity to keep up with skyrocketing demand, and those investments will continue to scale as the business grows. These investments include the new Product Distribution Center Expansion in Thief River Falls, Minnesota, more robust and predictive web search functionality, higher inventory levels and increased automation in the Digi-Key warehouse, which all benefit customers by providing easy and efficient research, shopping and delivery experience.
Digi-Key has also invested in innovations including cut tape printing, providing more products and services within the ecosystem and expanding the Digi-Key Marketplace, providing customers around the world with even more reason to make Digi-Key their first stop in the design process.
These investments in innovation have helped Digi-Key, its suppliers and customers weather the storm of 2021, and leaves all parties well-positioned for 2022.
ELE Times: What milestones are targeted in terms of research, technology development, and market expansion and revenue generation by end of next year?
We couldn't be more excited with the activity we are engaged in with engineers and purchasing professionals from India. India has been one of the fastest-growing countries within Digi-Key with sales up just under 80% in 2021. The Digi-Key model is not based on a local presence. Customers tell us they value the breadth of inventory, technical content and high service levels. That model works due to our ability to aggregate worldwide demand into a single distribution center. That fulfilment center is located in a rural part of the north-central U.S. near the Canadian border. We are not physically close to any major customer base, but these are our roots and where the company was founded 50 years ago. We have an amazing, committed group of team members from our local communities that recognize the responsibility and privilege we have in serving our customers to fuel their innovation with the components and service levels we provide. We ship to 180 countries from this location each year. That said, we are working towards establishing a more physical presence in India as we believe the work ethic and innovation within India is a good match to our internal culture. Engineers and purchasing professionals will begin recognizing more benefits from this growing local presence by the end of 2022. More to come so please stay tuned!
ELE Times: Considering emerging technologies what market trends are to be followed in 2 to 4 years?
IoT, AI, machine learning, automation, wireless connectivity and electrification will continue to drive innovation in 2022 and beyond and will impact nearly every industry. Connected sensors will be important in collecting data and informing decisions. These trends will drive and enable everything from "smart cities" to alleviate growing challenges in many urban centers to agriculture to transportation and industrial applications to improve safety and productivity in factories. Sustainability will also continue to be an important factor across all areas that these emerging technologies will help to support.
Mayank Vashisht | Sub Editor | ELE Times