Technology and electronics are running the economic and development wheel of the world and Semiconductors are the fuel on which Modern electronics and technology run. From highly sophisticated space station equipment and military-grade weapons and technologies to the desktop or mobile phone on which you must be reading this, every electronic device is fundamentally operating on a chip or a semiconductor. Semiconductors are the cornerstone of everyday electronics and technology.
India's electronics market is one of the largest in the world in terms of consumption. It is likely to grow to USD 400 billion by 2025. While India is one of the largest consumers of electronic devices, it is very sad to know that every chip that is being used in those devices is being imported from elsewhere. Industry experts have been addressing the need for India to become a completely self-reliant manufacturing hub of the world. Furthermore, the perpetual growth and advances in the technological realm and the related industries has expanded the dependency on semiconductor research and escalated the economic value of its manufacturing capacity. It's not an overstatement to say that semiconductors have powered the modern world.
India has done well in design and verification for the semiconductor industry, with most of the global semiconductor companies having an R&D footprint in India, but 100% of our chips, memory and display are imported into the country. Just on semiconductor chips alone, we are probably looking at around $10-12 billion of imports this year at a minimum. Not only this, there has been an already ongoing shortage of chips across the globe, and the recent pandemics and consequent lockdowns in almost every country have brought industries to their knees.
To boost the Indian economy, India amongst several other steps, very boldly invited the world's top chip players to set up their foundries in the motherland. However, there has been a sentiment of over-optimism going around as this is perhaps the third time in the last decade when this bubble has appeared. But, Things might be pointing towards the 'third time's charm' now. Because things are on a positive track this time with Taiwan TSMC, the world's largest advanced chip manufacturer.
TSMC, which powers smartphone chips for Apple, MediaTek, Qualcomm and others, has grown its market share to 56 per cent within the semiconductor contract manufacturer market, according to reports in the first quarter, far surpassing Samsung (18 per cent), United Microelectronics Corporation (7 per cent) and GlobalFoundries (7 per cent).
India and Taiwan are in talks on an agreement that could lead to setting up a chip manufacturing unit in South Asia along with tariff reductions on components for producing semiconductors by the end of the year, people familiar with the matter said. This can reduce the dependency on China for countries like the USA, Japan and South Korea as well and it can also lead to diversifying crucial supply-chains networks. Despite its tiny size, the GDP of Taiwan is over 600 billion- dollars which is twice the size of Pakistan's economy.
Officials in New Delhi and Taipei have met in recent weeks to discuss a deal that would bring a chip plant worth an estimated $7.5 billion to India to supply everything from 5G devices to electric cars. India is currently studying possible locations with adequate land, water and manpower while saying it would provide financial support of 50% of capital expenditure from 2023 as well as tax breaks and other incentives.
Taiwanese extended branch to bolster economic relations with India is hampered by a host of factors. These include complicated tax regulations (which could be somewhat ameliorated by India's new goods and services tax regime), corruption, insufficient understanding of each other's investment environments and markets, cost-inflated high-skill services like business consulting, and linguistic and cultural differences.
The trade talks come at a time when democracies across the world are boosting economic and military links to stand up against an increasingly assertive China. While Taiwan has long sought a trade deal with India, officials in New Delhi had been hesitant to anger Beijing, which claims the island democracy as its territory.
India has sought to lure high-technology investments as it seeks to become more self-reliant on chips, while Taiwan wants to strengthen its diplomatic presence around the globe as it pushes back against the pressure from China. Beijing has vowed to work toward unifying the island democracy with the mainland, even by force if necessary.
Chip shortages have delayed the much-anticipated launch of a smartphone by billionaire Mukesh Ambani's Reliance Industries that has been co-engineered with Google. Currently, India imports almost all semiconductors to meet demand estimated to reach around $100 billion by 2025 from about $24 billion now.
Taiwan has welcomed cooperation between the two sides on semiconductors although it is still evaluating the proposal given a lack of ecosystem for setting up a chip fabrication plant in India, people familiar with the matter said. The Taiwan side has flagged concerns on the supply of water and electricity and suggested that it may be more feasible for India to start creating a chip design sector first before proceeding to build fabs.
In February 2019, the Indian government announced the National Electronic Policy 2019, which aims to achieve the target of $400 billion in Indian domestic demand for electronics hardware by 2025, rather than the earlier goal of doing so by 2020. This means several things: for starters, it shows that the current annual growth rate for domestic production (26.7 per cent) has fallen below the targeted growth rate over this time period (2009–2020). Given current levels of domestic production (approximately $59 billion in 2017–2018), India's capacity to produce electronics hardware does not appear to be on pace to meet the 2010 goal of reaching more than $100 billion by 2020. Beyond that, growth in India's domestic demand has not yet closed in on the earlier $400 billion targets either, a benchmark also targeted originally for 2020. This implies that it will take longer than anticipated for Indian domestic production to meet the nominal 2020 targets unless the momentum of growth is scaled up drastically (which seems highly unlikely). This only reinforces India's need for solid partnerships with actors like Taiwan to help meet the production shortfall, and the country's need for targeted exports in this sector, given that overall market demand is projected to grow exponentially in the coming years.
The growing demand in India for electronics hardware complements Taiwan's comparative advantages and goals of boosting domestic firms and spurring economic growth. Taiwan's electronics sector accounts for 15.5 per cent of the island's GDP, while India's amounts to only 1.7 per cent of its overall GDP. India's aggregate production of electronics hardware in 2014–2015 was in the range of $32.5 billion, whereas domestic consumption was nearly double that figure; over that period, imports accounted for around 58 per cent of Indian consumption of electronics hardware.
The Chinese Chip on Taiwan's Shoulder
Taiwan is a tiny island located in the south-east of China, and the government of Taiwan claims itself to be a 'Republic of china', and alleges the Communist Party of China for the forceful occupation of China mainland. The footprints of all the globally acknowledged tensions and controversies of Taiwan can be mapped to the Chinese Civil War and since then the government of the Republic of China has been ruling the island from its capital Taipei. The increasing influence of communist China has almost isolated Taiwan and currently, only 23 smaller countries from the Pacific, Africa and Latin America enjoy diplomatic relations with Taipei. In Spite of that, the USA is still the biggest ally of Taiwan, but that too may be a strategic decision to uplift US bargaining chips against China.
On several occasions, China has sternly warned other nations to stay clear of the Taiwan issue. In fact, in May 2021. The Chinese state media Global Times publicly warned Australia to enter Taiwan with retaliatory missiles. To China, Taiwan is an inalienable part of its territory, and China has been relentlessly ramping up campaigns for years to try to persuade businesses and countries alike to accept Taiwan as part of mainland China.
You can Change Friends, not Neighbours"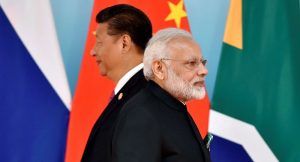 After the 1962 Sino-Indian war, India lost initial hopes of good relations with its largest neighbour and became sceptical towards China since then. After the collapse of the Soviet Union in 1991, and India faced the BOP crises, India came up with the "Look East Policy" seeking improved relations with East Asian Countries. This policy also gave a diplomatic push to the Dormant India-Taiwan relations as well, and henceforth India-Taiwan relations have been on a growth curve. The "Bilateral Investment Agreement" in 2002 was the result of that, which led to direct air connectivity between India and Taiwan. Another significant incident happened in 2021, which boosted this relation when Beijing refused to give a visa to a Kashmir based Indian military commander, which questioned the sovereignty of India, and in response to that India decided to suspend its military ties with China and explosively affirmed China to acknowledge 'One India Policy'.
After this incident, the visits between India and Taiwan extended to formal relations. Taiwan hosted the then president of India, APJ Abdul Kalam in 2010. The "Southbound Policy" of 2016 of Taiwan has emphasised good relations with ASEAN and South-Asian countries. The 2020 Galwan crisis with China also acted as a catalyst in strengthening the relations between India and Taiwan, when Taipei criticised the Chinese aggression that happened in Galwan and urged other countries to extend support to India.
The economic angle between India-Taiwan relations is perhaps one of the most important aspects of this relation. During 2002-2014, Taiwan invested 66 million dollars in India, but in comparison to that, from 2021 the total investment increased rapidly. Taiwanese company Foxconn has invested 5 billion dollars in India. The India- Taiwan bilateral trade was nearly $6 billion in 2016 with 140 Taiwanese companies operating in India. India also acknowledges the extended support from Taiwan recently by providing medical assistance to help India fight the COVID outbreak.
Sealing this deal with Taiwan can be a portrayal of India's stern and firm approach towards China and the propelling tensions by overlooking the 'One China Policy', anymore. If all goes well, then for India this deal would be one of the biggest game-changer and it will boost the Indian economy to reach the 1 trillion dollar mark, perhaps sooner than is expected.
Mayank Vashisht | Sub Editor | ELE Times