According to TechSci Research report, the India surgical lights market is expected to grow at a significant rate during the forecast period. Mounting acceptance of advanced LED surgical lights is projected to act as major market-driven factor. Moreover, rising product demand for healthcare facilities such as surgeries and invasive procedures is further expected to fuel the market growth through FY2026.
Furthermore, the rise in regulatory approvals for operating room equipment is estimated to boost India surgical lights market growth. Increased public and private funding along with favourable government policies including exemptions from taxes and duties for imported medical systems and drugs are further expected to drive the market growth during the forecast period. However, the high installation cost of the product can restrict market growth over the next few years. Moreover, the lack of awareness about the new installations in the country can further hinder the market growth during the forecast period.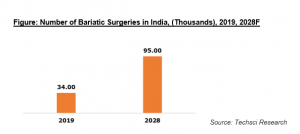 The India surgical lights market is segmented based on type, technology, application, end-user, company, and region. Based on application, the market can be fragmented into ENT surgery, gynaecological surgery, cardiac surgery, neurosurgery, others. The cardiac surgery segment is expected to dominate the market in the forthcoming years on account of an increase in the incidence of cardiovascular disorders across the country. Besides, gynaecological surgery segment is projected to witness high growing CAGR during the forecast years. This high growth is accredited to upsurge in the number of childbirths by C-section.
In addition to this, rising gynecologic surgeries owing to the high prevalence of female reproductive system disorders are further contributing to the growing trend. Based on end-user, the market can be categorized into hospitals, ambulatory surgical centers, speciality clinics. Among these, the hospitals segment is projected to hold the largest market share over the forecast period owing to the increasing number of well-equipped hospitals. Besides, rising demand for advanced and hybrid ORs coupled with continuous investments in infrastructure for better treatment is forecasted to boost the segmental growth in the next 5 years.
Technomed India Pvt. Ltd., Hill-Rom India Pvt. Ltd., Getinge India Pvt. Ltd., Integra Life Sciences Pvt. Ltd., Medinnova Systems Pvt. Ltd., Steris India Pvt. Ltd., Stryker India Pvt. Ltd., Cognate India Pvt. Ltd., Skynex India Pvt. Ltd. (Skynexxotlight), United Surgical Industries and others are some of the leading players operating in India surgical lights market. Companies operating in the market are using organic strategies such as product launches, mergers and acquisitions and research collaborations to boost their share and increase their geographic reach.
"India surgical lights market is expected to witness steady growth during the forecast period on account of rapid technological advancements in the surgical lights. Along with this, increased focus on offering better patient care across different healthcare facilities is further forecasted to bode well for the growth of surgical lights market in the country. Moreover, high prevalence of lifestyle diseases is further expected to create lucrative opportunities for the market growth of India Surgical Lights market over the next five years." said Mr Karan Chechi, Research Director with TechSci Research, a research-based India management consulting firm.
According to TechSci Research report has evaluated the future growth potential of India surgical lights market and provides statistics & information on market size, structure and future market growth. The report intends to provide cutting-edge market intelligence and help decision makers take sound investment decisions. Besides, the report also identifies and analyzes the emerging trends along with essential drivers, challenges and opportunities in India surgical lights market.