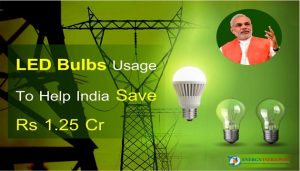 The twilight streets of Gujrat are now shining bright with 2 lakhs LED streetlights being installed across the street. The drive has been undertaken under the Government of India's Street Lighting National Programme (SLNP)
The key role in the installations of the LEDs has been undertaken by Energy Efficiency Services Limited (EESL), a PSU executing under the Union Ministry of Power. According to sources in the PSU, the initiative would be annualy saving up an approximate amount of 2.9 crore kWh of power.
"This energy saving results in monetary saving of Rs 4,50,000 per day and approx. `16.5 Cr per annum. EESL has signed agreements with 135 Urban Local Bodies (ULBs) and 7 Municipal Corporations in Gujarat for installation of 7.5 lakh LED Street lights in the State," said an EESL official. EESL has installed around 21 lakh LED street lights across the country, maintaining an uptime of 95 percent for all street lights across the country, the official added.
With the 100 'smart city programme' launched by Prime Minister, Narendra Modi, on 5th January 2015, the initiative would also trigger in conversion of conventional street and domestic lights with energy efficient LED lights. Under SLNP Government aims to replace 1.34 crore conventional street lights with energy efficient LED lights.
LED lights installation across the country would witness an annual energy saving of `900 crore units and the total cost savings of municipalities every year will be `5,500 crore.
EESL installing 2,500 LED street lights daily and is expected to complete 50 municipalities by the end of May, 2017 and 120 other municipalities by July. Gujarat has over 5 Lakhs LED street lights, as ensured by the PSU.
Mass production of the LED street lights has reduced the price from `135/watt to `80/watt, as reported by EESL sources.