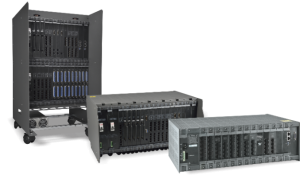 Employees are overloaded with information coming from a variety of sources which sometimes baffles them. The scenario becomes more apparent when we adhere to the fact that retail stores operate without considering geographical limits. However, sharing incorrect information does have its set of implications. Therefore, retailers have to ensure that all the internal employees are on the same page and have proper knowledge of all the projects assigned to them.
It wouldn't be inappropriate to say that telecom and retail sectors have change parallelly. Like telephony is slowly moving from wired lines to wireless VOIP networks retailers have also started leaving their brick and mortar stores and entering the digital space. The transition phase has introduced a whole lot of challenges which can be managed to a certain extent with a strong communication network.
Besides streamlining the internal and external communication for the dispersed workforce, there is a lot more a business phone system can offer.
Scalability: In the expansion phase when revenue generation is uncertain, it is apparent for retailers to make frequent changes in the number of employees. Buying a license for every recruitment or changing configuration on exit leads to IT and admin overhead. Installing a PBX (Public Branch Exchange) tailored to the latest technology enables owners to increase and decrease the quantity of users without making any major modifications. 
Availability of Calling Channels: Retailers often face the problem of inappropriate number of calling channels with desk and mobile employees constantly in communication. The whole situation results in missed calls, affecting the brand's reputation and leading to lost business opportunities. To tackle the challenge, retailers can invest in phone systems which can be programmed to support heavy call traffic and offer plenty of call management features. 
Voice Quality and Network Glitches: There are instances when due to poor voice quality, incorrect information is shared in the professional circles instead of being in the same network. There are some instances when interface cards pose certain problems resulting in communication breaks. To address all the needs effectively, retailers should go for IP-PBX phone systems with Hot Swappability and Redundancy feature. The functionality ensures continuous communication in unfavorable conditions. Investing in PBXs with Universal connectivity, retailers have a wide variety of extensions to choose from, such as Analog, Digital Key Phones and IP extensions. Based on the features required and network availability, authorities can install any of these terminals and offer a sound communication bridge between customers and employees. 
Communication with Millennials: According to an experienced personality in the retail sector, millennials are the most complex customers to handle. They keep shifting their preferences from physical stores to specialty stores to online shopping making it difficult to assess their shopping patterns. When we compare number of these consumers with employees answering their queries, the result is less. The problem can be solved by adopting a flexible approach in which every team member is well informed regarding the customers' problems. IP-PBX improves internal connectivity and offers a bunch of features such as Call Transfer, Call Forward and Audio Conference making communication effortless and effective.
Security Concerns with Customer Database and the Payment Gateways: With maximum retailers going digital, thefts and frauds during payment process stand as a problem. Another major challenge is securing the details shared by the customer while making online purchase. Following certain protocols can help the retailers improve shopping experience of their customers.
There are many other areas where a digital EPABX telephone system can help the retailers tackle existing and emerging challenges efficiently. However, with the wave of change constantly blowing, it is apparent that retail sector will undergo transformation soon. Moreover, modifications introduce a set of challenges. Therefore, retailers need to be careful while making purchase decision and should select futuristic communication solution. To avoid going on tour of the market, retailers can trust a reliable brand such as Matrix. The company is known as innovator of feature loaded Telecom and Security solutions that find their applications in different industry verticals.