The Electronics City Industries Association (ELCIA) Cluster has entered into a partnership agreement with Mycronic and their Indian partner Accurex Solutions Pvt. Ltd., who would be offering their state-of-the-art electronics equipment, as part of their 'Education and Industry' initiative to promote the 'Make in India' initiative.
As part of the agreement, Mycronic will provide cutting-edge equipment to ELCIA Cluster for a period of 2 years, free of cost. Mycronic will also provide the latest technology exposure to various stakeholders in the local electronics industry community.
ELCIA Cluster's partnership with Mycronic will be of immense help to ELCIA members, students, entrepreneurs, and the industries in and around Electronics City. It will help them to get in touch with the latest happenings in the field of electronics and go a long way in developing the right skills and create the right environment for future investments.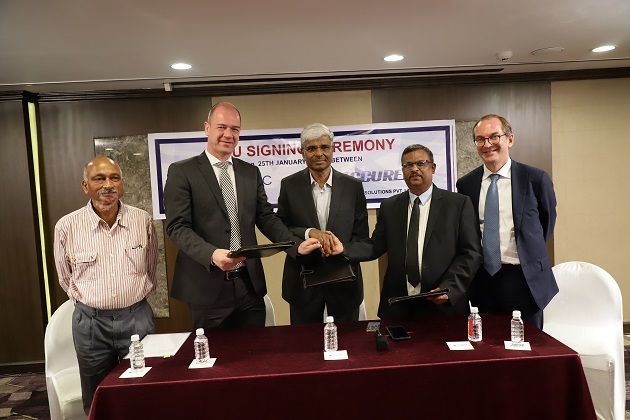 "We are extremely proud to be a part of Mycronic's unique offering," says Mr. Muralidhar R, Chairman, ELCIA Cluster. "Mycronic and Accurex have a long history of cooperation with the Indian Industry, going back to more than 30 years. With this agreement in place, it is only going to get bigger and better. It is a great pleasure to see this cooperation continue and strengthened for the benefit of our mutual customers and the Indian Industry as a whole," he adds.
"Mycronic is proud to be associated with ELCIA Cluster, first of its kind in India and we would be offering through them our cutting-edge technology products so that students, entrepreneurs, and industry can have hands-on experience on our cutting-edge technology products," explains Clemens Jargon, VP Global Dispensing.
Mr. Rammohan K.N. the Managing Director, Accurex Solutions Pvt. Ltd., says, "This partnership paves the way for the Indian electronics industry to explore and experience cutting-edge technology from Mycronic, Sweden, which would help the industry, young entrepreneurs, and students in Karnataka. It would also provide a unique opportunity for investment under the 'Make in India' initiative. Our co-operation with Mycronic in providing the equipment to ELCIA Cluster will help in getting the right projects forward, as well in the supply of the necessary skilled people. Karnataka will be immensely benefitted in incubating new entrepreneurs in the electronics industry."
The  ELCIA Cluster was established with the objective of empowering the growth of MSMEs in and around the Electronics City through the creation of state of the art manufacturing facilities on a shared basis.  This also addresses common issues such as technology upgradation,  R&D, skill training,  quality improvement, market access, etc. The ELCIA Cluster aims to be a complete product development hub. The Common Facilities Centre (CFC)  has been established under the guidelines of  GoI's  MSME CDP scheme.
For more information, contact:
Muralidhar R, Chairman, ELCIA Cluster, Phone: 91-80-2852 15555, Email us: http//: cluster.elcia.in
Also visit:  www.mycronic.com