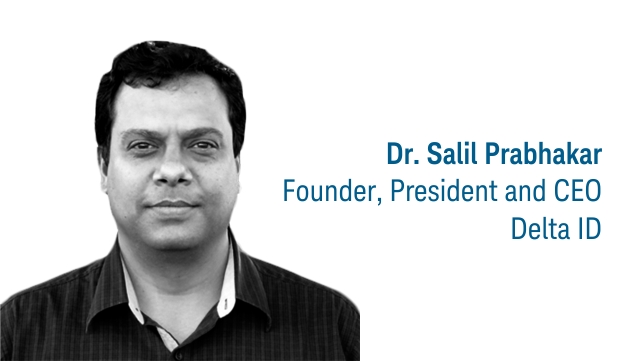 Founded in 2011 at California, USA, by biometrics experts, Delta ID is singularly focused on making the iris in our eyes a unique and secret password protect key, that no individual will ever have to remember. The company's patented biometric technology, ActiveIRIS is the world's first iris recognition technology that can be easily integrated into mass market mobile and PC devices, and is extremely easy for consumers to use. With Biometrics going mainstream, Delta ID continues to work with global and Indian mobile and PC OEMs to bring its ActiveIRIS technology to more mobile and PC devices. Dr. Salil Prabhakar, Founder, President and CEO of Delta ID in an interview with ELETimes, talks  on his company's unique Biometric technology.
ELETimes: How Iris technology is different from its counterparts like fingerprint, face, hand etc. as a Biometric Authentication identifier?
Dr. Salil Prabhakar : Iris technology is also a Biometric Technology, just like fingerprint, face etc. it is another modality being used to establish identity of human beings. In case of iris the uniqueness comes from the pattern of the iris, which is essentially a muscle controlling the size of the pupil. The differences between iris, face or fingerprint stem from the respective biology, and how easy or difficult it is for computer algorithms and scanners to scan these body parts to securely and reliably establish the identity of an individual.
ELETimes: Deployment of Biometric technologies is growing in India. How Indian market is shaping up in this sector?
Dr. Salil Prabhakar  : Indian market has taken the lead when it comes to taking a Biometric technology to consumers, and at the scale. The Aadhaar biometric systems is perhaps world's largest. Beyond just the number of people enrolled, India is also extending the use of biometric technology to novel use cases which is not seen in other parts of the world.
ELETimes: Would you like to share with us future plans for the roadmap of Delta ID growth in India?
Dr. Salil Prabhakar  : Delta ID has been singularly focused on Iris scanning, and particularly the integration of iris scanning in consumer grade mobile phones. Delta ID plans to continually improve and enhance the core technology, and also define solution architectures to do it more securely across multiple platforms.
ELETimes: Tell us about the demand of Iris recognition software and its significance to UIDAI?
Dr. Salil Prabhakar  : It is widely accepted in the industry, and also in UIDAI, that iris is better biometric modality when it comes to using across people of different age groups and occupations. Iris being an internal organ totally protected by cornea is unaffected by external conditions. It has been proven to be more stable and reliable in various implementations across the world. UIDAI and STQC are actively driving the standardization and certification effort around integration of iris recognition in mobile devices, and we expect this effort will result in many more consumer mobile devices with iris authentication, addressing some of the issues with the use of fingerprints reported lately.
ELETimes: Bring into light your collaborations and association with other OEM's and manufacturers?
Dr. Salil Prabhakar  : Delta ID's software components for Aadhaar, along with 3 other critical hardware components have already received STQC certification. This makes the process of receiving STQC certification for mobile devices faster and simpler. We engage with the mobile device manufacturers through the entire process of technology design, integration to STQC testing and certification.