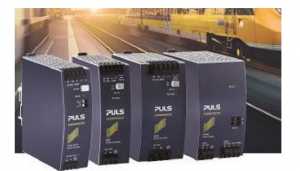 Puls Power has introduced DIN-rail power supplies for railway applications, suitable for both track-side and on-board train equipment.
The firm claims 100% greater mains failure bridging time than required by the railway standard EN 50155 (S2). All PCBs are conformally coated to increase weather resistance, and all PSUs are completely convection cooled for increasing reliability, and quiet operation.
Input is 110Vdc nominal across the range, with fluctuation tolerance of -30 to +40%. Outputs are between 24 and 28Vdc, with power ratings of 100, 200 or 400W. An operating range of -40 to +70°C with no de-rating is available, and typical efficiency is greater than 94%. Spring-clamp terminals provide shock and vibration resistance while offering simple wiring without tools.
EN 50155 certification is classified according to T3, TX, C2 and S2 for use on rolling stock, and the supplies also meet EN 61373 for shock and vibration, EN 50121-3-2 for EMC requirements and EN 45545-2 for fire protection on a railway vehicle according to hazard level HL3.
"The advanced, robust, reliable and efficient design of our DIN-Rail power supplies makes them ideal for railway applications. They offer many advantages over chassis mounted types including ease of installation, the ability to upgrade in the event of a system change and simplicity of installation and maintenance," said Puls' UK manager Marco van der Linden.
As well as DIN rail mounting, optional wall and side brackets offer alternative mounting options.