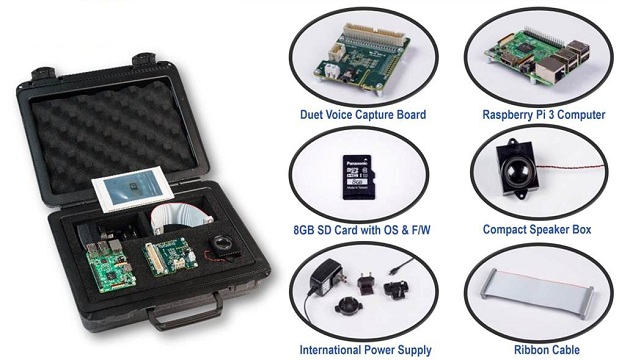 Digi-Key Electronics, a full-service global distributor of electronic components, is proud to announce Cirrus Logic's Voice Capture Development Kit for Amazon AVS (598-2471-KIT-ND) is available for immediate shipment worldwide exclusively from Digi-Key and is priced at just $400.
The kit is a complete solution for developing a hands-free AVS product enabled with Alexa, Amazon's intelligent voice control service. The kit features Cirrus Logic's SoundClear voice capture solution, smart codec, MEMS microphones, and control console that leverages the AVS APIs to help developers, design engineers, and OEMs (Original Equipment Manufacturers) easily build commercial-grade, voice-activated products.
The Cirrus Logic Voice Capture Development Kit for Amazon AVS is ideal for applications such as Portable Smart Speakers, Networked Smart Speakers, Digital Assistants, and Smart Home Voice Control, among others.
"Our voice capture development kit delivers superior voice command performance that, when combined with the provided Cirrus Logic tools and software, enables OEMs to bring high-fidelity speakers with superior Alexa voice interaction to market faster," said Carl Alberty, Vice President of Marketing, Cirrus Logic audio products. "Together with Digi-Key, we are providing an easy-to-use solution that reduces BOM costs and system costs of emerging voice-enabled products."
Digi-Key worked closely with Cirrus Logic to select and source high-quality components to create a complete solution right out of the box. They also designed a custom, anti-static case that aids in the protection, transportation, storage, and even operation of the kit. Together the companies went through several testing iterations to find the right case and foam insert to house the components.
"Hands-free, voice-activated products are continuously gaining popularity in our industry and the Cirrus Logic Voice Capture Development Kit for Amazon AVS will enable our customers to easily integrate those features into their designs," said David Stein, VP, Global Semiconductor at Digi-Key. "We are pleased to partner with Cirrus Logic to offer this complete solution to engineers and manufacturers around the world, reduce their development costs, and enable innovation."
For more information  visit  Digi-Key website