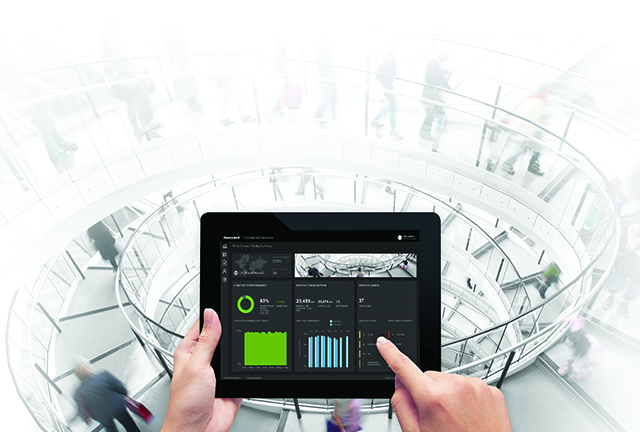 Cloud-based connected buildings service draws from the collective power of Internet of Things technologies, mobile applications, and Honeywell's service engineers
Smart services suite taps building connectivity to prioritze maintenance activities to optimize facility performance and reduce cost
Honeywell, on May 18 2017, introduced a new cloud-enabled building management service that prioritizes the most impactful maintenance activities to optimize building performance.
Combining advanced automation and data analytics, Outcome Based Service enables Honeywell service engineers to watch building assets around the clock, identifying anomalies faster than traditional maintenance, saving them time and money.
Without close monitoring, energy consumption can drift by up to 7 percent annually. The service taps building connectivity and sensors to ensure that building equipment is performing at its best. Early pilots show reduction in energy spends and reactive service calls.
"Data provides valuable insights about building health if you have the right combination of technology and expertise to efficiently gather and analyze it," said Aseem Joshi, regional general manager of Honeywell Building Solutions in India. "With Outcome Based Service, Honeywell makes the most of internet connectivity to essentially listen to what a connected building has to say, providing actionable insights to improve performance. Instead of repeatedly reviewing a time-consuming checklist, the Honeywell Outcome Based Service optimizes efficiency and tracks performance real time."
Outcome Based Service provides the following actionable insights:
Real-Time Analytics– Honeywell's analytics evaluates facility data real-time to find issues faster, improve performance and efficiency, decreasing maintenance time.
Dynamic Tasking– Instead of routine scheduled inspections, analytics prioritize maintenance of higher-impact activities, mitigating downtime and improving operational efficiencies.
Performance Dashboards and Reports– The easy-to-use, cloud-based interface monitors building performance against an organization's Key Performance Indicators.
Lifecycle Management– An actionable roadmap with predictable costs keeps systems current and IT-compliant, providing efficient virus and patch updates.
Continuous Service Improvement– Systematic reviews prevent and eradicate problems, reduce critical incidents and downtime.
For more information, please visit https://buildingsolutions.honeywell.com/OutcomeBasedService.