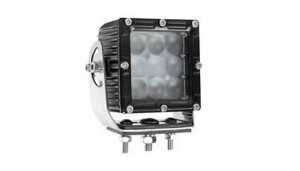 Industrial lighting leader, Larson Electronics LLC, has released an LED work light kit that directly replaces and upgrades existing lights on Kubota MX125X tractors. This LED light kit consists of six LED work lights, four flood configured lights and two spot configured lights. This light package provides operators with a powerful and versatile LED tractor lighting system upgrade.
The LLP-KB-TR-MX125X tractor light package comes with a total of six LED lights, four lights in a flood configuration to replace top rear and top front cab lights, and two lights in a spot configuration to replace top front cab lights. Each of the flood lamps produces 2,160 lumens, for a total of 8,640 lumens of brilliant, intense LED illumination, drawing 27 watts each. The spot configured LED lights offer 2,750 lumens each for a total of 5,500 lumens and draw just 25 watts a piece. The spotlights combine a single CREE LED with a high output reflector to produce a narrow 10 degree spread spot beam approximately 1000' long combined with a 60° flood beam. This combination spot and flood beam provides both distance and width from a single light source. This lighting package is highly efficient and effective.
This lighting package operates on 9-64V DC input and an electric current of 2.8 amps (per lamp). Each LED lamp in this light kit is IP67 waterproof with an air breather design, sealed against the potential intrusion of dust and dirt, which is highly likely to be found at worksites these lights will be used. Built with aluminum housing and polycarbonate lenses to protect the LEDS, these lights can survive rugged outdoor use and demanding use. Each lamp is mounted via a trunnion u-bracket mount making vertical adjustments easy.
"This tractor package is an ideal replacement for traditional tractor lights that just aren't bright enough and waste energy," said Rob Bresnahan, CEO of Larson Electronics LLC. "The CREE LED lights we use are designed for direct replacement, so upgrading existing lights is very simple, and they have excellent energy-efficient features", he added.