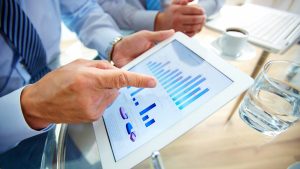 Avnet, Inc., a leading global technology distributor, on  Jan 19, 2017, released the January 2017 issue of Supply Chain Navigator, featuring an exclusive One-on-One interview with Paul Keel, senior vice president of supply chain at 3M. Keel shares insights into the critical role 3M's global supply chain group played in the organization's incredible 15 percent return-on-assets performance, and the strategies that helped 3M achieve the number one spot in Gartner's 2016 Supply Chain Top 20: Industrial ranking.
"As the digital transformation of the high tech supply chain continues, practitioners across the global value chain are being faced with an unprecedented onslaught of strategic choices, the results of which could literally make or break their organizations," said Wade McDaniel, vice president of Supply Chain Solutions, Avnet Velocity and publisher of Supply Chain Navigator. "In this issue, we offer insights from subject matter experts from IBM, Cisco, Deloitte, Air Worldwide, Everledger and Skuchain, on the people, process and technology benefits and challenges of the most influential trends shaping the supply chain of tomorrow, including blockchain, additive manufacturing, and risk and talent management."
Other editorial highlights of the January 2017 issue of Supply Chain Navigator include:
"The Missing Link," an in-depth look at how IBM's Watson is bridging the gap between supply chain risk management and big data
"IHS Economics Outlook: Global Supply Chain Trends and Threats," by Chris Christopher, IHS Markit
"Big Data in Catastrophe and Supply Chain Risk Modeling," by Kamban Parasuraman and Aaron Michel, AIR Worldwide
Feature editorial package on Digital Supply Chain Transformation

"Building the Workforce of the Future," by Lori Osterback-Boettner, Cisco Systems Inc.
"Additive Manufacturing is a Supply Chain Technology," by Mark Cotteleer, and Kelly Marchese, Deloitte Consulting LLP
"Blockchain: A House Divided"
Supply Chain Navigator is a 2016 winner of the APEX awards for Publication Excellence. The publication provides supply chain executives and decision makers with practical tools and strategic insights they need to accelerate their organization's drive to success. Each issue is produced in collaboration with supply chain professionals experienced in managing complex global supply chains both upstream and downstream, as well as distinguished academics and prominent market analysts. The publication reaches more than 150,000 purchasing, supply chain, manufacturing, operations and logistics professionals throughout the global electronics industry.