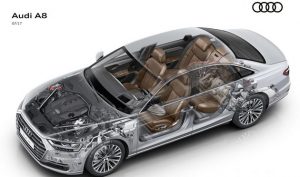 What if your car is going to meet with an unavoidable accident and radar sensors of your car know that it's coming?
The car computer tells its active suspension to raise the level of the body by three inches on the side of the approaching impact. Crash forces are transferred in the floor structure that is the toughest part of the car's body shell which will potentially avert the serious injuries or something more badly.
In a recently held grand summit presented in Barcelona, Audi revealed its 2019 edition of A8 sedan and researched into the multitude of various technologies included in Audi's upcoming flagship.
The headline featuring the new Audi A8 got to be its third level autonomous driving potential. Audi also said that they are going to be the first brand to market with such technology system.
First fully autonomous car of the world might be years away from production, but some luxury brands like Audi is working to unleash the intermediate autonomous level cars.
In A8's case, 'Traffic Jam Pilot' system of Audi will be able to take-over the driving on a highway at maximum speed up to 37 mph. This might be very limited in scope but for some drivers who face long shuttle on regular basis in slow traffic, then it could be very beneficial for them. But If you get so much comfortable and resting on the back seat, remember A8 cameras installed in the interior is watching driver make sure that he/she could take control over the driving within 10 seconds when needed.
Except for some limited technology testing programs, most of the states in the US don't permit self-driving cars in public. Audi hopes that legal limitations will be removed soon that are imposed on self-driving cars on the public road.