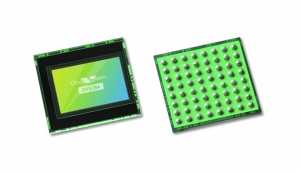 OmniVision's new 1-megapixel global shutter image sensor, for in-cabin camera modules in passenger vehicles, where the driver state monitoring (DSM) and passenger monitoring cameras need to be small and unobtrusive.
Driver State Monitoring is used by semi-autonomous vehicles to track the driver's eye gaze and allow the vehicle to take control when driver becomes drowsy or distracted.
DSM is currently available in high-end cars, but over the next few years, the feature will migrate into mainstream vehicles, a market segment that is much more cost-sensitive.
"Upcoming mandates will require that all vehicles sold in the EU come equipped with driver-state monitoring, beginning with 2022 models," says Omnivision's Thilo Rausch, "the OV9284 is the industry's first image sensor with the right balance of cost effectiveness, high-quality imaging and advanced features, meeting the needs of the mainstream automotive market."
The OV9284 claims to have the industry's best near-infrared (NIR) quantum efficiency (QE) in a driver-monitoring image sensor, with 12% at 940nm, which allows designers to achieve sufficient illumination with fewer LEDs, thus reducing total system cost and power consumption. This sensor consumes only 90mW of power at 60 frames per second (fps), which is 30% lower than the nearest competitor.
Moreover, the high-speed global shutter sensor with OmniPixel3-GS technology offers 1280 x 800 resolution at video speeds of up to 120 fps.
The sensor comes in a chip-scale package measuring 5237µm x 4463µm for smaller lens designs. Its 27-degree chief ray angle with a low z height requirement provides a wider viewing angle in a thinner package, allowing for greater flexibility with camera placement.