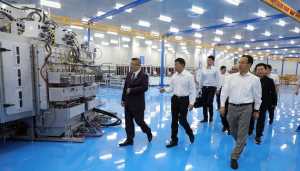 The world's leading clean energy company, Hanergy Mobile Energy Holding Group, recently in Sept. 30 officially put into operation the world's first automated HanTile production line at Guiyang Mobile Energy Industrial Park in southwest China's Guizhou Province. The company claims that it's targeting the HanTile market scale of trillions.
Present at the inauguration ceremony, Chen Yu, the Deputy Secretary of the Municipal Party Committee of Guiyang, congratulated Hanergy for this milestone achievement. "We express our heartfelt congratulations to Hanergy for launching the world's first automated HanTile production line in Guiyang, where is equipped with the excellent business environment. We welcome more large-scale projects to be built and invested here. We'll extend all our support in order to maintain the high level and high-quality standard for these upcoming projects."

Chen Yu also visited the HanTile production line and related application products after meeting with Li Hejun and the team.
The Guiyang Mobile Energy Industrial Park is a key industrial project in Guiyang city. It started setup on March 2018 and covered a total area of approximately 220,000 square meters in the Guiyang Bonded Zone.
Subsequently, the HanTile automatic production line is amongst the crucial projects of Guiyang city and Hanergy Mobile Energy Holding Group. This project was signed in October 2017 and launched the mass production line in September 2019 to show the "Speed of Hanergy".
Li Hejun, Chairman of Hanergy Mobile Energy Holding Group said, "At Hanergy, we express our gratitude to city government for their constant support and assistance to the development of Hanergy, which will further cooperate with Guiyang city to fully promote the projects and contribute to the local economy."
Once the planned 600MW CIGS industrial park in Bengbu is put into operation, the annual sales can be expected to reach 5 billion Yuan (700 million USD), according to Gu Yu, President of Jinneng Mobile Energy Industry Park.
For more information, visit: www.hanergy.eu