Onsemi has been making waves in the industry for several years with the lowest-power Bluetooth Low Energy (Bluetooth LE) enabled devices. In 2017, Onsemi released the RSL10, its first entry in the Bluetooth LE space. The RSL15 followed in 2021, and Onsemi continues developing new devices using the Bluetooth LE specification. Each device has multiple family members, so here are a few tips to help you select the best device for your application.
The demands of the application are your guide to selecting the right solution, so start by answering these questions:
Do I need a very low-power solution with the most extended possible battery life?
Does the application require audio transmission or audio processing?
Is the application space-constrained?
Would a module with an antenna and external passive components shorten development time?
Is automotive certification required?
Is the application human implantable or life-critical medical?
Does the application require security and secure data transmission?
Is a BLE reference design helpful to kick off product development?
Is it an IoT application?
You can begin to identify the right Bluetooth LE-enabled Onsemi product with these answers. A summary of the product options is at the bottom.
Low Power
Ultra-low power is the hallmark of the RSL family. Onsemi designed the RSL10 with input from implantable medical customers who need to run for many years on a small battery without recharge. Every block of the RSL devices has low power in mind. All members of the RSL family can run at very low duty cycles with the power in the nA range during sleep times. The RSL15 offers a Smart Sense Mode with continuous ADC monitoring of an external value, with wakeup on ADC threshold at 186 nA @ 3.0 V!
Audio
If your application involves audio and an audio codec is required, the best choice is the RSL10. The RSL10 has the integrated LPDSP32 that can run audio codecs such as G.722 or CELT. Future Onsemi Bluetooth LE solutions will also support the new LE Audio protocol with an LC3 codec. (Note: a codec enables the encoding and decoding of compressed digital data for transmission. Codecs can be a fixed hardware block or an algorithm running on a processor, and the LPDSP32 processor is a dedicated hardware block for the most efficient, lowest power compression/decompression of audio data). Our EZAIRO 7160 wireless-enabled DSP includes the RSL10 and is ideal for the small form factor, and low-power audio applications such as hearing aids.
Size
Select a WLCSP (wafer-level chip scale package)—simply the silicon die with solder balls for connectivity—for applications needing the smallest form factor, such as consumer or medical disposable, wearable or ID tag. The RSL10 WLCSP is a tiny 2.32 mm x 2.36 mm solution with a thickness of 0.35 mm. The RSL10 QFN is 6 mm x 6 mm, and RSL15 QFN is 5 mm x 5 mm, which is still very small. For WLCSP, be sure your chosen manufacturing process can accommodate the 0.25 mm solder ball pitch.
Module
The development of any RF system (such as 2.4 GHz Bluetooth LE) has the added complexity of selecting the surrounding components and antenna to match the hardware environment. Qualifying the system to meet standards from the FCC, CE, or other regulatory bodies, can be time-consuming and expensive. To bypass much of this work, select a pre-certified module with all needed passives (like crystals, power supply decoupling, and antenna matching circuit) and an integrated antenna. In this case, the RSL10 SIP is an ideal solution. All passive components and antenna are integrated in this certified module that is 6mm x 8mm x 1.46mm. An RSL15 SIP is in progress and expected to be announced soon.
Automotive Certification
Automotive application development will need a component that meets the rigorous automotive temperature range and standards. With the same energy efficiency as the RSL10, the AEC-Q100 Grade 2 qualified NCV-RSL10 enables a variety of new automotive applications including keyless entry, safety, and diagnostic alerts, and enhanced infotainment controls.
Life-Critical Medical
Onsemi has a long history as a medical component provider, and has used this experience to qualify the MD-RSL10 for use in implanted or life-critical applications such as cardiac monitoring and management, and neurostimulation.
Note 1: If the product is to be used as a critical component in life support systems, or any FDA Class 3 medical devices or medical devices with a similar or equivalent classification in a foreign jurisdiction, or any devices intended for implantation in the human body, sale is subject to Onsemi's advance written authorization for product use and a separate indemnification agreement signed by Buyer.
Reference Design Needed
Onsemi has many proven reference designs that can serve as a starting point to accelerate your project development. Reference designs typically include the application hardware, firmware, BOM, schematic, and PCB manufacturing files. Onsemi offers a variety of low power reference designs to jumpstart your IoT application, including the:
RSL10 Sensor Development Kit
RSL10 Asset Tag
Energy Harvesting Bluetooth Low Energy Switch
RSL10 Smart Shot Camera
Secure Transmission
Developers must incorporate one or more security mechanisms when protecting sensitive data, such as personal health or payment transactions. The RSL15 includes the latest embedded security with a true hardware-based root-of-trust and Arm crypto-cell for hardware-accelerated cryptographic algorithms. Data shows security algorithms such as ECDSA or SHA run up to 62 times faster on this hardware accelerator than a software security solution.
IoT
The Internet of Things (IoT) is a broad category, but a few typical requirements will guide component selection. A common IoT application would be a remote monitoring device that spends most of its time in sleep mode but occasionally wakes up, sends a few packets of data, and goes back to sleep. The RSL15 is a perfect fit for this application because it offers multiple low-power modes to fit virtually any application need. Also, the RSL15 has two choices for flash size (284 kB and 512 kB) and IoT-focused features such as a smart sensing mode that allows the ADC to be continuously read even in sleep mode. The RSL10 can also work well in IoT applications if one of the RSL10 form factors is needed.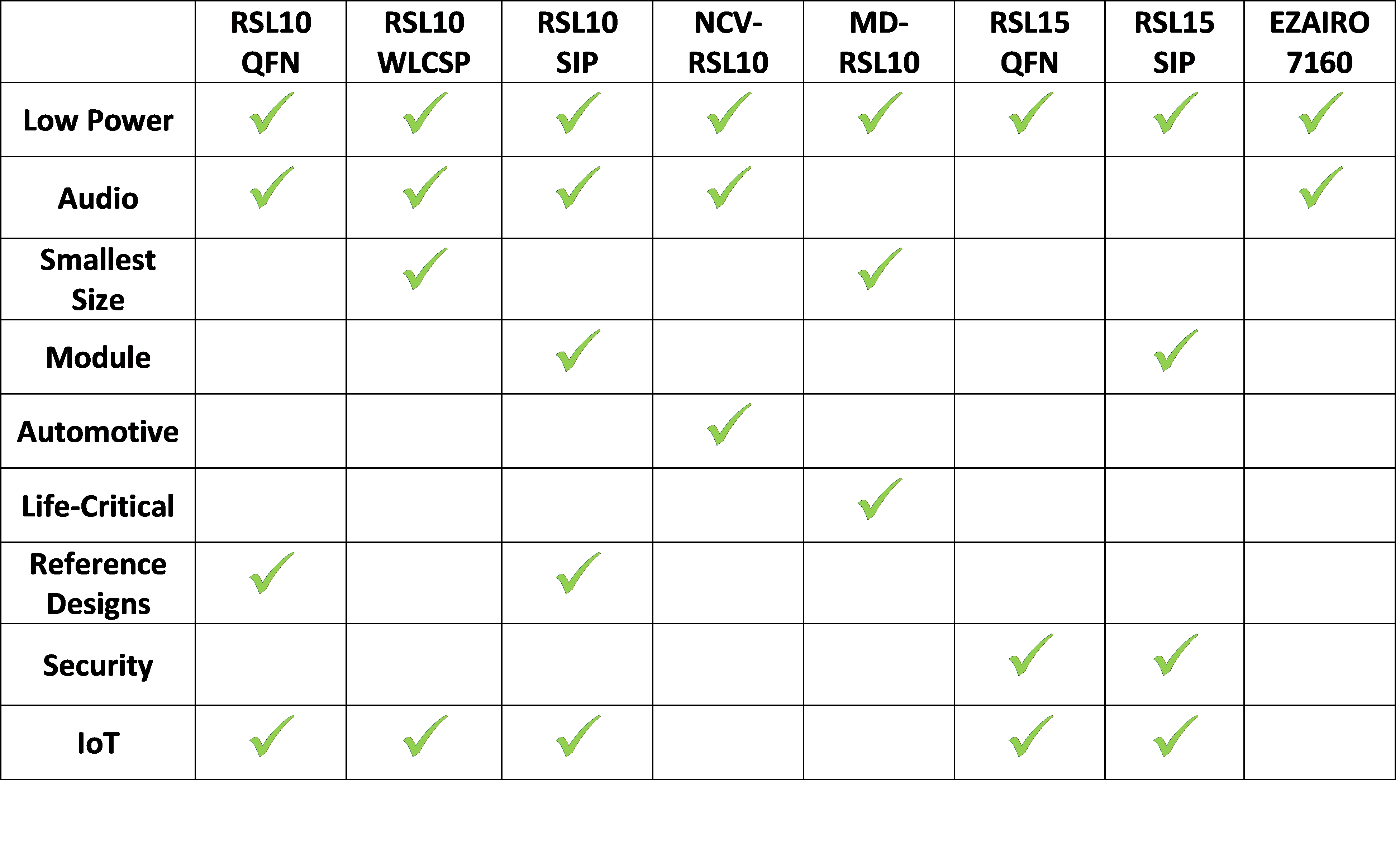 The Onsemi RSL family has a growing number of variants, all with ultra-low power consumption. Check out the Power Consumption and Battery Estimator and see for yourself, the RSL10 and RSL15 have industry-leading low-power.
Authored Article by: Jerry Bergum, Onsemi