Action cameras as good as GoPro:
There are a ton of quality action cameras on the market right now. But which one is going to be the best for you and your specific needs?
Here are the 5 best Action cameras available right now. This list is based on build quality, resolution, price, and more. I have included options for every type of consumer. So if you are looking for a budget option or the best product that money can buy to record all the action, do check out this list.
BEST BUDGET-FRIENDLY ACTION CAMERA
AKASO BRAVE 7 LE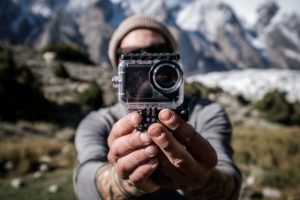 AKASO BRAVE 7 Le is the best budget-friendly action camera for adventure seekers, content creators, and vloggers looking for a cheaper alternative to GoPros. The AKASO BRAVE 7 LE is a great option with plenty of features even at its entry-level price. Currently priced at $120 the brave 7 le is feature-rich compared to most budget action cameras on the market. It includes a 4k video, a water-resistant body. It comes with various mounts, a wrist remote, and dive housing for your camera for your underwater adventures.
The built quality isn't bad, it's small and compact, making it easy to take along on all your excursions. The dual-screen is a big plus for vloggers. No one can record with confidence, knowing that she or he is in frame and focus. No more blurry takes.
The image quality isn't bad either. The video bitrate is quite low, so although you are recording at 4k resolution, you will not get the same level of detail as some higher-ended cameras. The brave 7 le has auto exposure, but if it's too bright or too dark then the results can be a bit unpredictable.
Key Features: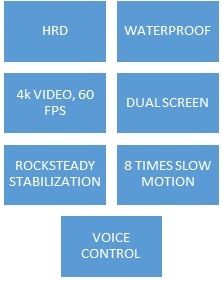 If you're looking for a cheap alternative to GoPros, then the Okaso Brave 7le delivers many of the same features for a whole lot less, making it ideal for adventure seekers, content creators, and vloggers on a budget.
BEST ACTION CAMERA FOR VLOGGERS.
DJI OSMO ACTION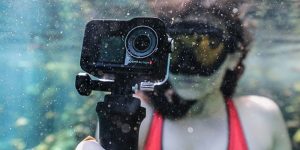 DJI Osmo is without a doubt the best action camera for vloggers. Although DJI may be known for their drones, their action camera is getting some well-deserved attention and it's perfect for vloggers. Currently priced at $200, the DJI Osmo action can't compete with the GoPro Hero 9 but can go head to head with GoPro's older models. It the solid and meant for rugged use, but looks quite utilitarian with its 3 aspherical layers lens. The HDR image quality is great. You will get vibrant, crystal clear footage in both dark and bright scenes and with the rock steady image stabilization, your videos will be extremely smooth and steady, plus its eight times slo-mo gives you buttery smooth 240 frames per second action sequences.
The DJI has a removable battery, which is great. You get about 90 minutes of continuous recording at 4k, with rocksteady turned on.
Key Features: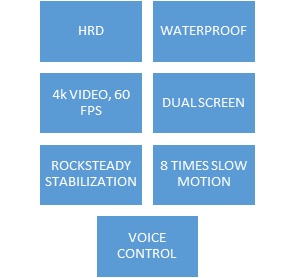 If you are looking for an affordable alternative to the new GoPro hero 9, then the DJI Osmo Action offers a great balance of features and price with 4k video, dual displays, and motion stabilization, and an hdr video option making it perfect for cost-conscious adrenaline junkies and bloggers.
BEST 4k ACTION CAMERA UNDER $1000
GoPro HERO7 BLACK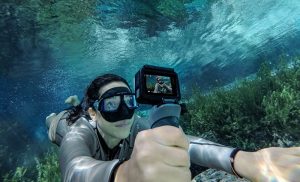 This is the best value action camera. The GoPro hero 7 black maybe a few years old but it's still a great action camera. It may not have all the new features of the hero 9, but for those looking for a solid performing 4k action camera, the hero 7 packs a lot of features and value.
Currently priced at $250, the GoPro hero 7 black isn't just the toned-down version of the hero 9. Only a few years ago, it was the GoPro flagship. It is waterproof up to 133 feet and that's without a casing. You've got the ability to record 4k video at various frame rates up to 120 frames per second and its hyper smooth video stabilization is really impressive.
The image quality is solid, but you do get a little distortion on the sides especially with a wider field of view. Although DJI Osmo action boasts similar specs, the hero 7 offers live streaming and better audio recording. It gives you a bigger bang for the buck.
Key Features: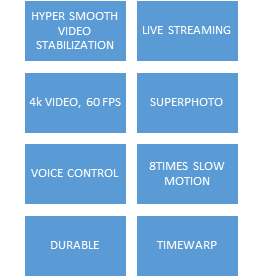 It may not be the most advanced action camera these days, but the GoPro Hero 7 black still packs a lot of value with a core feature set and build quality that still beats out most competitors at this price point.
MOST VERSATILE ACTION CAMERA
INSTA360 ONE R TWIN EDITION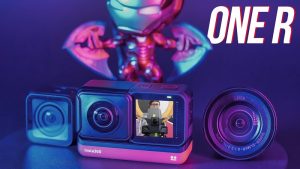 The INSTA360 ONE R TWIN EDITION offers some innovative features and its modular design offers incredible versatility, making it great for casual users and content creators that are not just into extreme sports.
Currently priced at $410 this action camera lets you swap out the lenses depending on your shooting needs. You get a 4k wide-angle lens for more traditional action footage and a 360-degree dual lens. It shoots incredible still images even in low light conditions.
Vloggers will like that they can snap the display to be front-facing and for content creators, they'll love that they can output in pro res 422 videos for their edits. The image quality is pretty good.
Key Features: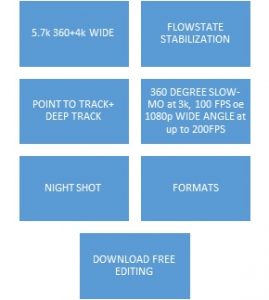 The Insta 360 1r twin edition is definitely a complete and great choice for casual users, content creators, and bloggers. If you are looking for a single action camera that provides versatile shooting options.
BEST OVERALL ACTION CAMERA
GoPro HERO 9 BLACK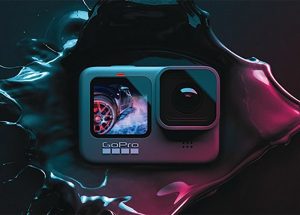 If you are looking for one of the best single-lens action cameras around that delivers performance and incredible features packed into a compact action camera then the latest GoPro hero 9 black sits at the top.
Currently, priced at $400, the GoPro hero 9 black records an amazing 5k  video while others struggle with capturing 4k. You can also shoot pro-quality 20 megapixel still photos with vivid colors and sharp details.
For vloggers, you've got the front-facing screen to frame your shots. For content creators, they will be able to capture incredible details, shooting 5k video. For adrenaline junkies, the hyper smooth boost is GoPro's strongest stabilization. It gives your action footage incredible smoothness, and the 8x slo-mo makes it look epic.
Key Features:

Whether you're a vlogger, content creator, adrenaline junkie, or just want one of the best action cameras for your holidays, the feature-rich GoPro hero 9 black is a top choice for all types of users.
By Mayank Vashisht | Technology Journalist | ELE Times