The increasing adoption of System on Modules in Adaptive SoC based product designs
With the evolving technology standards, Product engineers face an enormous challenge finalizing system architecture and the design approach. Through the continuous innovation cycle required in the world today, there is a need to ensure scalability, flexibility, and modularity in the embedded design architecture. Product designers have the option to choose COTS Single Board Computers, go for a chip down design or leverage the System on Modules to build a scalable product . Of the available approaches, The System on Module (SOM) approach is now the preferred model of design with the SOM market exptected to reach USD 2.3 billion by 2025 with a CAGR of 11% in the period 2020 – 2026.
The rise of Adaptive SoC
Adaptive SoCs integrate both the processor and FPGA architecture into a single device, while providing the necessary flexibility, scalability, and agility catering to the growing applications. The Zynq® UltraScale+™ MPSoC series provide 64-bit processor scalability while combining real-time control with soft and hard engines for graphics, video, waveform, and packet processing. These Adaptive SoCs complement the decade long availability of soft-core CPU's and other soft IP for building system on FPGAs. Adaptive SoCs then are particularly useful when high performance is required for a portion of an algorithm that can be implemented in hardware using parallel or pipelined (or a combination) techniques. However, Adaptive SoCs design tends to be a bit more challenging for the product designer.
Why a SOM Approach for Adaptive SoC based designs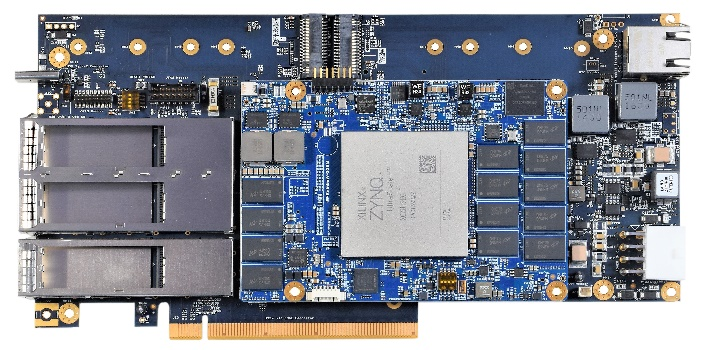 On a Adaptive SoC based product design, the system on module approach (SOM) offers significant advantages as this approach offloads several complexities involved in the design cycle. Adaptive SoC design includes complex power circuit design with the associated power sequencing and higher power density per area.
Adaptive SoC Design encompasses complex design challenges requiring highly skilled engineering:
Complex IO banks voltage handling
High speed DDR memory design
Accurate layout trace designs for serdes lines up to 58gb/s with necessary impedance
Special low loss PCB materials usage
Board form factor restrictions
High thermal management.
With the system on module incorporating the above designs and considerations, customers can now focus on their core competencies and features on their product, helping them reduce time to market with reduced development cost. iWave Systems and other system on module manufacturers alike take responsibility of product longevity while maintaining end of life for the hundreds of components on the module.
During the design of the System on Module, the module undergoes EMC compliance test and several rugged tests such as thermal cycling, aging, stress etc. This ruggedness allows adapting the system on modules to the product with ease and assured performance. The module vendors provide good technical support in integrating modules into customer systems while providing hardware, FPGA and software customization services. This allows customers to concentrate on their end applications and save lot on product development cost.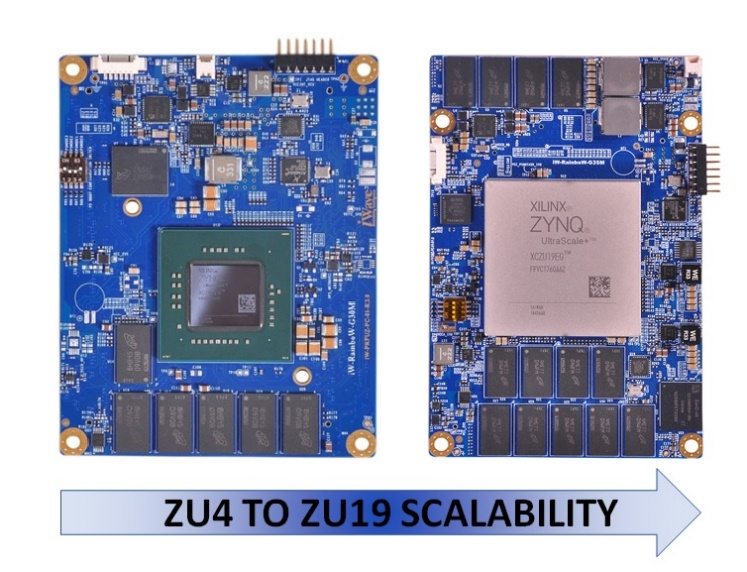 The SOM approach for the FPGA SoCs further allows greater scalability for the end applications in terms of logic density, FPGA IOs and number of transceiver lanes. For example, a well-designed carrier board design architecture can cover system IO ports for multiple end products ranging from the Xilinx Zynq MPSoC UltraScale+ ZU4 with 192K logic cells to ZU19 with 1.1M logic cells. Also, the SOM approach allows migrating new generation SoC solution without changing the product mechanical architecture.
"System-on-Modules make Xilinx technology accessible to current and non-traditional customers," said Chetan Khona, Xilinx director of Industrial, Vision, Healthcare & Sciences markets.  "Especially due to social distancing and work-from-home mandates around the globe, bringing up new custom hardware is even more challenging than typical and has driven many new customers toward the pre-qualified SOM approach.  We believe this is a trend that is here to stay."
How to get started with a SOM approach
IWave Systems provides for a reference design for the System on Module in the form of a development kit which integrates the several FPGA IPs together with associated IO ports. This allows customers to develop their product concept on the reference board itself eliminating the need to develop complex high-speed designs. As mentioned before, this reduces the risk in product development considerably and allows customers to get several months advantage in terms of time to market.
The iWave MPSoC development kit covers Adaptive SoC across the Zynq UltraScale+ MPSoC series ranging from ZU4/ZU5/ZU7 to ZU11/ZU17/ZU19.
The kit comes with SDK supporting to verify several hard blocks such as 4K HDMI In, 4K HDMI Out, 12G SDI Input & output, 10/25/40/100 G ethernet, Aurora, 150G, Interlaken, PCIe gen3, High speed MIPI CSI cameras, MIPI DSI, Display port and Functional safety.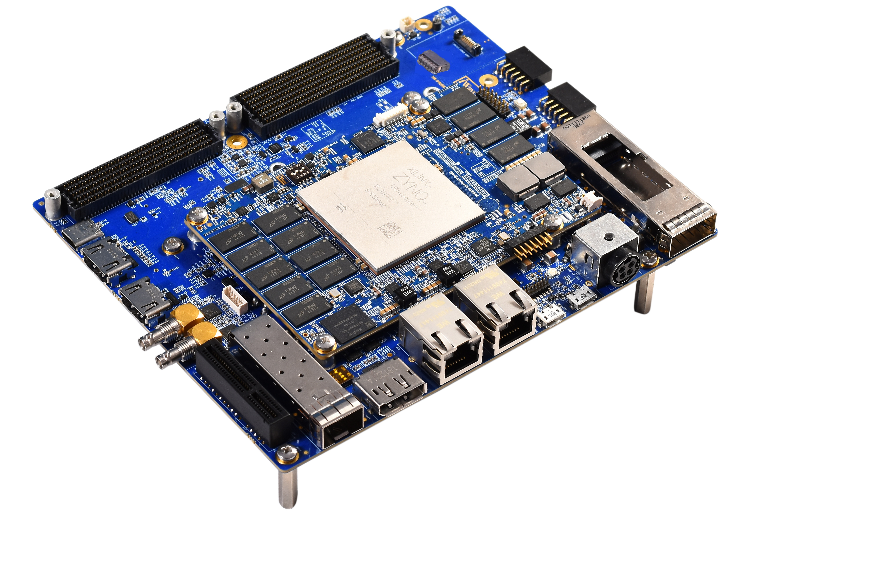 Expansion cards through the FMC and FMC+ Connectors on the Development kit enables customers to access the high-speed interfaces
Through the extensive feature rich ready to use development kit, customers can now build quick prototypes to evaluate product market fit and evaluate performance across difference Adaptive SoCs.
Through the adoption of iWave system on modules, function safety is taken care of since iWave has implemented a range of solutions provided by Xilinx and provides a path to test and integrate them to achieve the safety requirements of your application. Safety-critical applications like automotive, industrial motor control, avionics, and many others need to have high reliability and required Safety Integrity Levels (ASILs), for which it is necessary to mitigate soft errors and implement redundancy to have better hard fault toleration.
Successful high speed product designs with an Adaptive SoC
Emerging adoption of Adaptive SoC with the Zynq UltraScale+ MPSoC include medical imaging and diagnosing, high precision test and measurement equipment's, high accuracy machine vision systems and video analytics, UAVs, and avionics. These are applications which require high speed design and high-performance embedded computing platforms.
With our system on modules portfolio, iWave is driven by the mission to be a reliable technology partner in their product journey and ensure the best of products and extensive technical support.
iWave Systems is a global leader in the design and manufacturing of highly Scalable FPGA & SoC System on Modules and computing platforms. With over 21 years of experience on FPGA based solution design and development and a key focus on industrial, medical, and automotive industry verticals, iWave is committed to be your reliable technology partner. iWave helps customer shorten their product design and development cycle through a wide portfolio of embedded solutions.
Find more information on www.iwavesystems.com