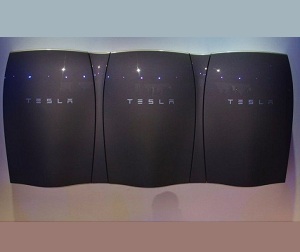 Elon Musk has confirmed Tesla will bring out a new version of its Powerwall home energy storage battery system this summer. While "step changes" can be expected, he declined to elaborate on the new product.
"The Tesla Powerwall and Powerpack – we have a lot of trials underway right now around the world … seen very good results," he told the audience. "We're expecting to come out with version two of the Powerwall probably around July, August this year, which will see further step changes hopefully."
He did not elaborate on what the step changes may be, but there has been plenty of speculation.
In a Q3 shareholder letter, issued last November 3, Tesla said construction and production were ahead of schedule at the five million square foot factory, located in Nevada, with the first cells expected to be produced there at the end of this year, "several quarters" ahead of the initial plan. Overall, it is expected to reach annual production of 35 GWh by 2020.
Tesla has seen demand for its home battery solutions surge, with the result that following the announcement of the Powerwall last April 30, the company received reservations totaling around US$800 million, according to Bloomberg Business, or for 38,000 systems. As such, the system is said to be sold out until at least mid-2016.
Demand for Tesla's storage products is said to be particularly strong in Australia, Germany and South Africa. Last month, Queensland saw the first Tesla Powerwall home battery switched on in Australia under Energex's battery storage trial. Meanwhile, Germany-based SMA announced, also last month, the launch of the Sunny Boy Storage inverter for end users. It is said to be the first AC-coupled system for high voltage batteries, like the Tesla Powerwall.