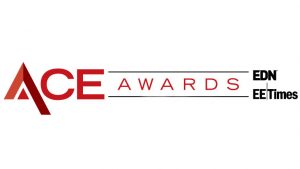 The Industry's First Graphical Sampling Multimeter, the DMM7510 Features 7½ Digit Resolution, Waveform Capture and a Touch User Interface
Tektronix, a leading worldwide provider of measurement solutions, on December 28, 2016,  announced that the Keithley DMM7510 was named a winner in the 2016 UBM Americas ACE (Annual Creativity in Electronics) Awards in the Test and Measurement category. The awards program honors the people and companies behind the technologies and products that are changing the world of electronics.
The winners were announced at an awards ceremony on Wednesday, December 7, at the San Jose Convention Center, during the Embedded Systems Conference Silicon Valley.
"The DMM7510 is the industry's first graphical sampling multimeter and winning this prestigious award is another indication of the impact this breakthrough instrument is having on the industry today," said Mike Flaherty, general manager, Keithley product line at Tektronix. "The DMM7510's combination of high performance and high ease of use gives our customers unparalleled insight into test results."
The DMM7510 7½-Digit Graphical Sampling Multimeter is the first of a new class of digital multimeters. It integrates a high accuracy digital multimeter, a digitizer for waveform capture, and a capacitive touchscreen user interface. The DMM7510 offers 1 pA sensitivity, fast 1 MHz sampling and can store over 27 million readings. With this performance, the DMM7510 is well-suited for applications such as profiling the power consumption of battery-operated products in IoT devices, implantable medical devices and fitness monitoring devices. The DMM7510 can measure both ultra-low sleep modes and capture complex load current bursts enabling design and test engineers to fully characterize and test the power consumed in all of a device's operating states.
The DMM7510's user interface continues Keithley's "Touch, Test, Invent" design philosophy that lets users learn faster, work smarter and invent easier. Exploring waveforms with pinch and zoom, for instance, helps users quickly uncover deep measurement insights. More information about Tektronix and Keithley digital multimeters is available at: http://www.tek.com/digital-multimeter.
"We're excited to honor this robust group for their dedication to their craft and efforts in bettering the industry for years to come," said Nina Brown, VP Events, UBM Americas. "The judging panel was given the difficult task of selecting winners from an incredibly talented group of finalists and we'd like to thank all of those participants for their amazing work and also honor their achievements. These awards aim to shine a light on the best in today's electronics realm and this group is the perfect example of excellence within both an important and complex industry."
For more information on the awards program visit http://ubm-ace.com/.