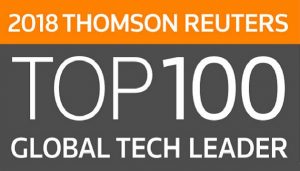 STMicroelectronics, a global semiconductor leader serving customers across the spectrum of electronics applications, was recognized as among the world's most innovative companies in being named a "2018 Thomson Reuters Top 100 Global Technology Leader".
Based on a proprietary methodology that holistically assesses organizations to determine those at the forefront of the tech industry, this recognition honors a selected group of companies that have demonstrated a commitment to leadership across eight pillars of performance: Financial, Management and Investor Confidence, Risk and Resilience, Legal Compliance, Innovation, People and Social Responsibility, Environmental Impact, and Reputation. The Top 100 Global Technology Leaders are those whose final scores across the pillars outshine over 5,000 other technology companies around the world.
Visit http://tr.com/top100tech to access the full report and view the complete list of 2018 Thomson Reuters Top 100 Global Technology Leaders. Join the discussion on Twitter #TRtech100.
 For more information, www.st.com