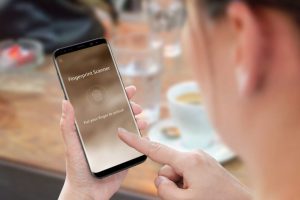 Synaptics, the company that makes fingerprint sensors for some of the biggest smartphone companies in the world will soon be unveiling their latest sensor that could be embedded into the screens of smartphones.
Called the Clear ID FS9500, the sensor will be mass produced for the top five smartphone companies in the market. The new sensors will eliminate the need for an external fingerprint reader mounted on the back of phones.
The five companies that will be benefitting from this revolutionary sensor are Apple, Samsung, Huawei, Oppo, and Vivo. All these companies have already placed their orders to avail the FS9500.
This will be a groundbreaking innovation in the smartphone industry. Currently, Apple's FaceID is considered to be the most advanced biometric security option on any phone.
However, there were rumors that Apple had been working on a similar behind-the-screen fingerprint sensor for the iPhone X, but time constraints forced the company to postpone the idea.
Fingerprint sensors are considered to be the greatest safety option for phones. Because, unlike face detection technology, they don't depend on ambient light. You can unlock your phone even when it's in your pocket.
The FS9500 will also be a great addition to modern smartphones that are virtually bezel-less.