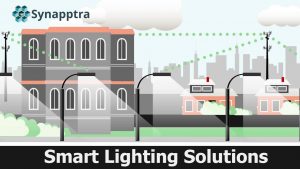 Smart Lighting Solutions powered by TM Synapptra enable next-generation Automated Lighting Control, delivering improved energy efficiency and comprehensive lighting management.
Synapptra turns lighting into a digital application on the network. This enables lighting to be easily and cost-effectively provisioned, controlled and monitored remotely.
Applications:
Office Lighting
Commercial Building Lighting
Data Center Lighting
Adaptive City Lighting
Industrial Lighting
Synapptra Sensor Node is a multi-sensor network device equipped to sense all parameters required in Lighting and Energy Management
Occupancy sensing
Ambient Light Sensing
Humidity and Temperature Sensing
Synapptra Sensor Node is available in Network Power and Non-Network Power variants. Network Power variant delivers up to 60W DC power over networking cable to compatible LED Luminaires.
Network Power reduces installation costs by up to 50% due to low voltage DC "plug-and-play" setup. Reduces commissioning time from days to hours and reduces maintenance costs by up to 80%.
Benefits:
Reducing non-productive power usage
High density IoT sensor network collects data and provides fine grain control
Sensor data enables control of lighting levels to exact space / time / personnel needs
Fully centralized management and reporting
Low cost installation and setup
Easy to re-provision
Flexible Control – by fixture, group, room, floor, building, time of day, occupancy, daylight harvesting
Advanced Occupancy Sensing – sensors enable automatic lighting control, one click daylight harvesting, space utilization and security alerts
For more details visit, www.synapptra.com